To make the big "beast" F150 more attractive, Ford introduced about 15 different color choices for the exterior. Although every shade looks awesome, Ford Smoked Quartz color became a highly popular choice among all other options.
Are you looking to learn everything about this color before trying out the new shade?
Smoked Quartz F150 is a beautiful metallic hue darker in the shade but gorgeous to look at. When it receives sufficient light, the bold metallic tint gives you darker shades of blue. With Ford F150 Smoked Quartz, the truck owners get a rare yet impressive combination of bluish-gray on the exterior.
Keep on reading to discover more.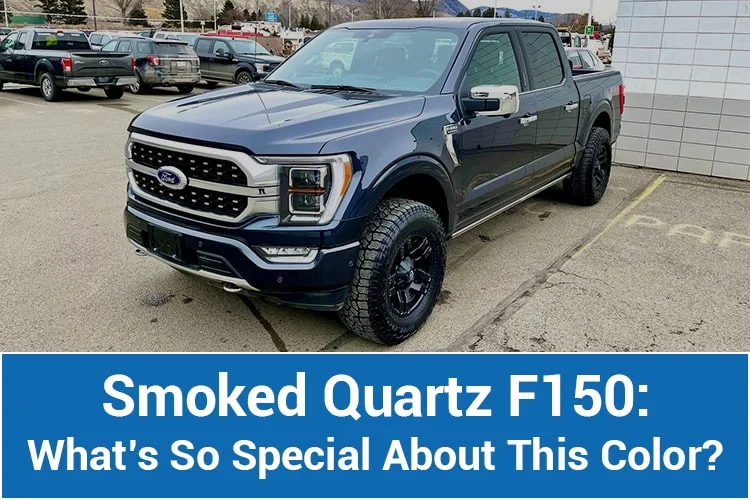 Smoked Quartz F150 – Let's Analyze The Shade
Available for Limited Trims & Packages
The F150 Smoke Quartz is a rare shade. Its dark metallic tint looks lavish and gives you clear visibility on the road. It is more suitable for people who enjoy darker tones.
This Ford Smoked Quartz metallic is available for limited trims and packages. It is because the hue is difficult to pair with certain Ford trims. You will find a limited number of F150 smoked Quartz on the road compared to other colors offered by the company.
Specifically, the Smoked Quartz F150 is available for Platinum, Lariat, and Limited trims. You can also get it in chrome packaging.
Glowing Exterior, Metallic Finish, Change Under Sunlight
The Smoked Quartz color is an intense yet glowing shade with a metallic finish. The darker exterior adds grandeur and strength to the overall vehicle.
With this Ford metallic Smoked Quartz, cleaning becomes easier and more manageable. The brightly glowing exterior makes it more noticeable. With the sharp and intense outer surface, you and the truck will always be in the spotlight. 
Looking from afar, when light falls on, the Smoked Quartz metallic tinted clearcoat looks ravishing with tinges of brown and blue. The smokey color also becomes bluish-gray, giving you the best of both worlds.
Additionally, the outstanding feature of Smoked Quartz F150 is how it reacts in the presence of light. The clear metallic coating reflects different shades as you drive the vehicle under the sunlight. That metallic finish further adds value to your truck, making it a good choice in the long run.
High Value
According to Ford Authority, to get the smoke quartz coating for your 2021 Ford F-150, you will have to pay $510, quite a high investment. 
But no worries because it has a high resale value. This is because this rare color is available for only certain trims, and there are only a few Smoked Quartz F150 vehicles running on the road.
Easy To Clean but Absorb Lots of Heat
The F150 Smoked Quartz, with its metallic tint, adds unique features to the truck. That metallic coating can better hold up as compared to the standard finish. This means the dark smokey color on your Ford won't fade with time. Besides, the Smoked Quartz exterior is easy to clean but difficult to maintain as dirt and dust are easily visible on the dark surface.
The X-factor of the Ford F150 Smoked Quartz is its polished texture that gives startling shades when exposed to sunlight. Also thanks to that great texture, the surface of Smoked Quartz has great color blending capacity and offers contrasting colors. You get bluish gray, dark deep blue, and a shade of gray from certain angles. The deep sharp color can hide flaws and scratches.
The metallic finish combined with the dark surface absorbs a lot of heat. This may increase the temperature inside the cabin. So, if you live in a region where winters are intense, the new Smoked Quartz F150 can serve you better.
Read more: Ford Rapid Red vs. Race Red vs. Ruby Red: Can't Pick Your Color?
Smoked Quartz vs. Antimatter Blue vs. Carbonized Gray
Some people even that Smoked Quartz is a mix between Antimatter Blue and Carbonized Gray. So let's see their differences.

All the tones are available in different trims and have certain features that make them distinctive from one another. Smoked Quartz is a darker shade with great reflecting qualities. Antimatter Blue Ford F150 is black with blue undertones. Ford Carbonized gray is a dark shade of grey that looks elegant. 
| | | | |
| --- | --- | --- | --- |
|   | Smoked Quartz | Antimatter Blue | Carbonized Grey |
| Paint Code | TQ/M7285 | HX#953734 | M7 |
| Exterior Look | Darker | Darker | Light to dark |
| Heat Absorption | High capacity | High capacity | Low capacity |
| Blending Ability | Great blending ability | Inefficient | Inefficient |
| Cleaning Capacity | Easy to clean but dirt is visible | Hiding dents and scratches is difficult. | Can hide dirt but no dents and scratches |
| Cost | Most Expensive | Expensive | Less expensive |
Smoked Quartz vs. Antimatter Blue
Smoked Quartz and Antimatter Blue are two unique shades ever introduced by the Ford. When fully submerged in the sunlight, Smoked Quartz looks almost similar to the Ford Antimatter Blue. But when it is cloudy, the Smoked Quartz looks grayer.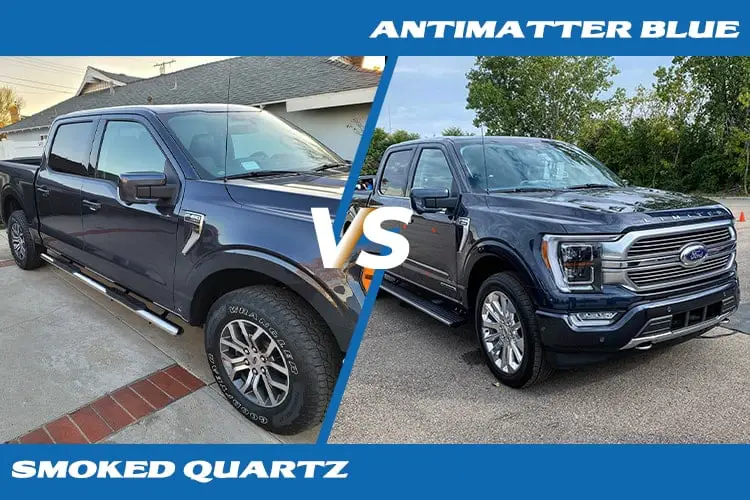 A buyer of the Smoked Quartz F150 fascinatingly shared his view about the vehicle, "It does look like Antimatter Blue in pictures….But in the morning beforehand it was cloudy and very gray looking. That's what I like about the color – that it changes throughout the day!"
The Smoked Quartz shade is preferred for its great color-shifting capability. Besides, the texture and exterior in this color look more powerful and intense, which you might not find in Antimatter Blue. Although the later color is subtle and strong in its way, you get more shades with Smoked Quartz.
They both have a high energy absorbing capacity due to their dark metallic shades. This makes them perfect for colder regions.
The price of the two vehicles is relatively high, with Smoked Quartz F150 being more expensive.
Smoked Quartz vs. Carbonized Gray
F150 Carbonized Gray is a lighter shade when compared to the dark and sharp smoked Quartz. Buyers often get confused between the two tones due to the color-changing aspects of Smoked Quartz.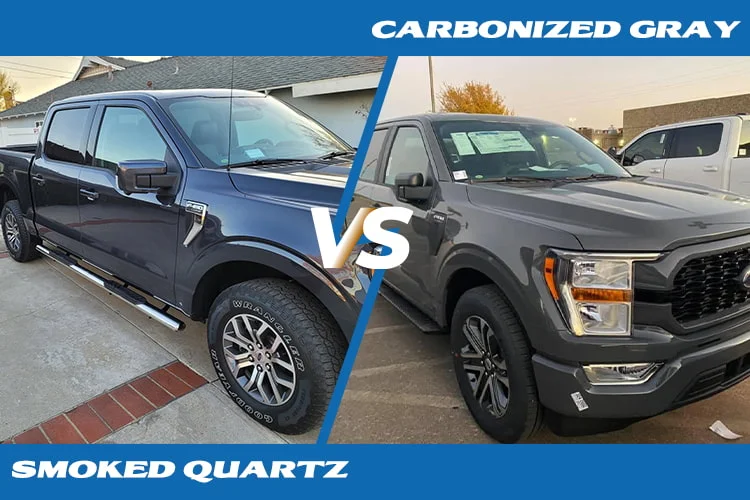 A buyer on an F150 Forum shared his view, saying, "It seems that the Smoked Quartz is much more of a color-shifting paint than other, which is cool!"
But buyers also love the light shade of Ford F150 Carbonized Grey, "The smoked Quartz is too dark for my taste in Florida. I guess I prefer to be that anonymous man in Carbonized Gray. (Found this comment on f150forum.com.)
Smoked Quartz is easy to clean as compared to the Carbonized Gray. But Carbonized Gray, with its lighter shade, has less heat-absorbing capacity making it perfect for hotter regions.
Read more: Star White vs. Oxford White: Which Color Looks Better On Your Truck?
Final thoughts: Should you pick a Smoked Quartz F150?
Smoked Quartz is a unique hue. If you get it, you can enjoy different shades and amazing contact throughout the day. If you prefer dark colors with tinges of gray and blue in the undertones, Smoked Quartz F150 is a worthy option. It will give the truck's exterior a powerful look perfect for off-grid ventures.
But people with an indication toward lighter shades can enjoy Carbonized gray, which is elegant. And if you love sleek and polished shades, Ford Antimatter blue has that amazing shine with undertones of blue on its exterior.