If you are a car geek, you must have noticed that some Ford trucks are also labeled as Fx4. Well, this isn't any detailing error. It's Ford off-road package. 
But what are the differences between Fx4 and 4×4?
While the package for each specific model differs, below is a list of Fx4's enthralling advanced features that distinguish it from 4×4:
Off-road tuned shock absorbers
An electronic locking rear differential
Protective skid plates 
Special Hill Descent control system 
Easy shifting mechanism 
Special badging of 'FX4 Off-Road' decal 
With all the hype about Fx4's off-road package, let's analyze whether Fx4 stacks up against its conventional 4×4 counterparts or not.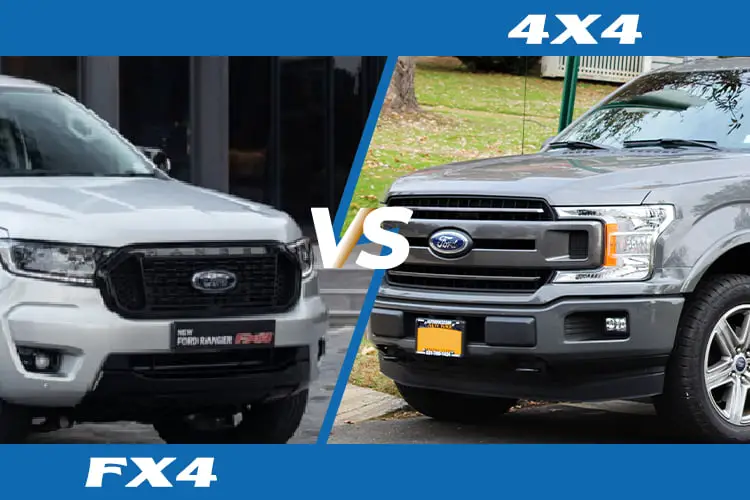 Ford Fx4 vs. 4×4: A Comparison Observed in F150 Vehicles 
The F-150 is among the finest vehicles that you can find in America. Also, the Fx4 package is most notable in Ford F150 trucks. Therefore we have Ford F-150 Fx4 vs. 4×4 trucks in the spotlight today. 
Generally, the Ford's F150 4×4 and Fx4 packages might seem familiar, but the value they bring to the table is diverse. To understand which one is best for your specific needs, let's observe the difference side-by-side.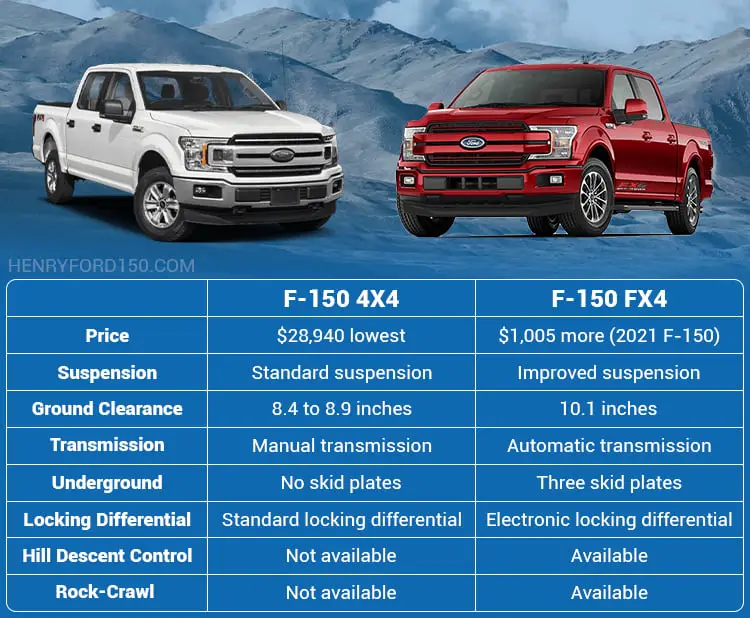 Price  
According to cars.usnews.com, the base price of 2022 F-150 4×4 is $29,990, the lowest starting price in the category. Models in the SuperCab and SuperCrew series start at $34,075, and models in the SuperCrew series begin at $37,700. However, if we talk about the Fx4 package, all the F-150 models with 4WD are pretty capable of off-road performance. The package adds worth and convenience to your 4WD starting at a damage of just $1,005 (2021 and 2022 model years). 
This price seems pretty conventional due to the value-added features that allow your vehicle to perform much better in off-roading situations. 
Suspension 
The 4×4 comes with standard suspension, whereas the additional suspensions and shocks in Fx4 promise a smooth journey even when the roads get scary and rough. The improved suspensions let the roadies have a pleasant time as they ensure that the vehicle runs as smoothly as possible. However, this feature comes with an extra minor fee which is all worth it.
Ground Clearance 
The 4×4 comes with a lower ground clearance of 8.4 to 8.9 inches. But when we come to Fx4, the ground clearance is high. Its total clearance adds up to 256 mm I.e.10.1 inches, with a front and backtrack of 62.4 inches.
Transmission 
With the 4×4, you get the 10-speed transmission, fuel efficiency, and easier gear changes that give better performance and improved acceleration at both low and mid-range power. Moreover, the switchable modes Normal, Tow-Haul, Snow-Wet, EcoSelect, and Sport help improve the driver's control.
But this becomes even more convenient with the Fx4 automatic transmission. It is less complicated than a manual one. Switch to auto mode, and when the truck detects loss of traction on any front wheels, more power is sent to other wheels to avoid spillage. The need to constantly shift gear is eliminated in Fx4. What's more, a torque converter is attached to the drive chain, acting as a manual transmission clutch. 
Underside 
There are three skid plates which are a form pad to protect essential components that can get damaged while off-roading. These are: 
Front differential 
Transfer case 
Fuel tank 
The fuel tank skid protects the fuel tank when moving on rough terrains. These skid plates are not available in 4×4, which exposes the truck to numerous obstacles. Although these pads are not highly durable and the vehicle's parts can get damaged in severe conditions, they are enough to provide minimum protection.  
Advanced Car Safety Features 
The Fx4 packages of the new Ford 150 make it superior to all its forerunners. They have been smartly planned to ensure safety and comfort for the driver and passengers. The difference in advanced car safety features of 4×4 and Fx4 include: 
The Fx4 package is specially designed for off-road adventures. So let's start with one of the most prominent car safety features, the unique Hill Descent Control. It makes off-road driving easier. The system powers the low-range mode and uses a sensor from the ABS. The mode thumps the brakes to ensure that the vehicle's speed stays within the manageable limit.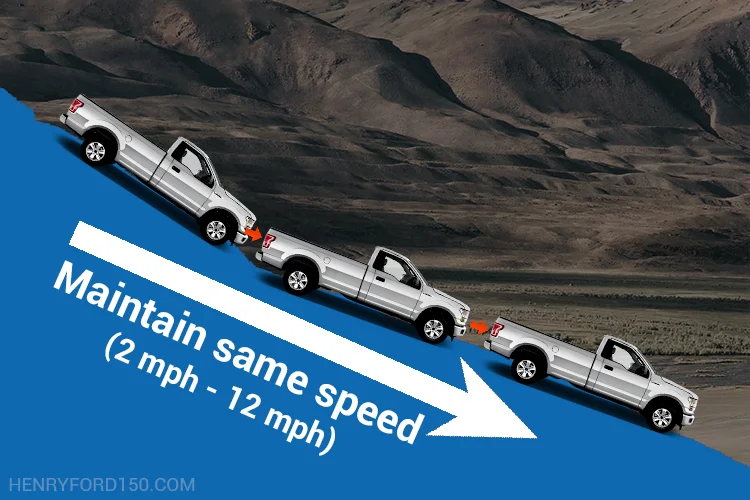 The Hill Descent Control system allows your F150 to maintain a controlled descent by maintaining a set low speed over rough and slippery declines. This feature works as adaptive cruise control for off-roading, which is pretty cool.
The toggle-shift in Fx4 is quite impressive. Unlike other 4×4 trucks, the toggle-shift is placed on the steering wheel, reducing the uncomfortable clutter on the dashboard and cabin. This placement enhances the interior ambiance and lux of the truck. 
Another praiseworthy feature of fx4 is its Rock Crawl feature. It modifies the transmission and traction control systems, helping the traction while negotiating rocks. This feature of Fx4 with a similar mechanism is found in Ford Super Duty and Ford Bronco. It is predicted that this feature will be made standard in Ford's future models. 
All the advanced safety features of Fx4 packages assure unbeatable performance, better efficiency, and distinctive style on off-roads as the off-road features gain popularity among standard drivers.
Locking Differential 
A rear lock differential (RLD) system splits torque 50/50 between the rear wheels. When in use, the RLD ensures that two wheels rotate at the same speed—this mode installed in Fx4 assists you in rough terrains or when you get stuck somewhere. 
This mode can be used when one of your wheels is stuck in the ground and the other is in the air. The grounded wheel will have traction, and the vehicle will be free within no time. Remember that the rear lock differential cannot be used if your car is completely stuck. The vehicle must be activated before moving on the rough terrains. 
But these electronics locking rear axles are not available in standard 4×4 trucks. The transfer case of Fx4 is so improved that the truck can engage when in motion. 
The ratio of the locking rear axle depends on its engine bay. 5.0-, 3.5- and 3.0-liter trucks get a 3.31:1 axle, while those with the 2.7 receive a 3.55:1 axle. 
---
In case you want to learn more about 4×4 Trucks and the FX4 Package:
Fx4 vs. 4×4: Let's Talk About Their History & Main Features
What is a 4×4 Truck? 
A 4×4 automobile or truck, often known as 4×4 (4WD) or 4-by-4, is an engine that uniformly distributes power to all four wheels. As all four wheels are powered independently, the driver enjoys better control and confidence while climbing steeper slopes, going through rough places, or areas with low traction like sand or snow.  
The 4WDs date back 200 years in history. As early as the 1820s, Burstall & Hill in Great Britain built an all-wheel vehicle. Then later, the first automobile that worked on a gasoline engine to power all wheels was established by Spyker, a Holland-built car. The progress continued, and now most vehicles come with this unique 4×4 feature. The F series 4×4 is an entry-level variant for four-wheel drive.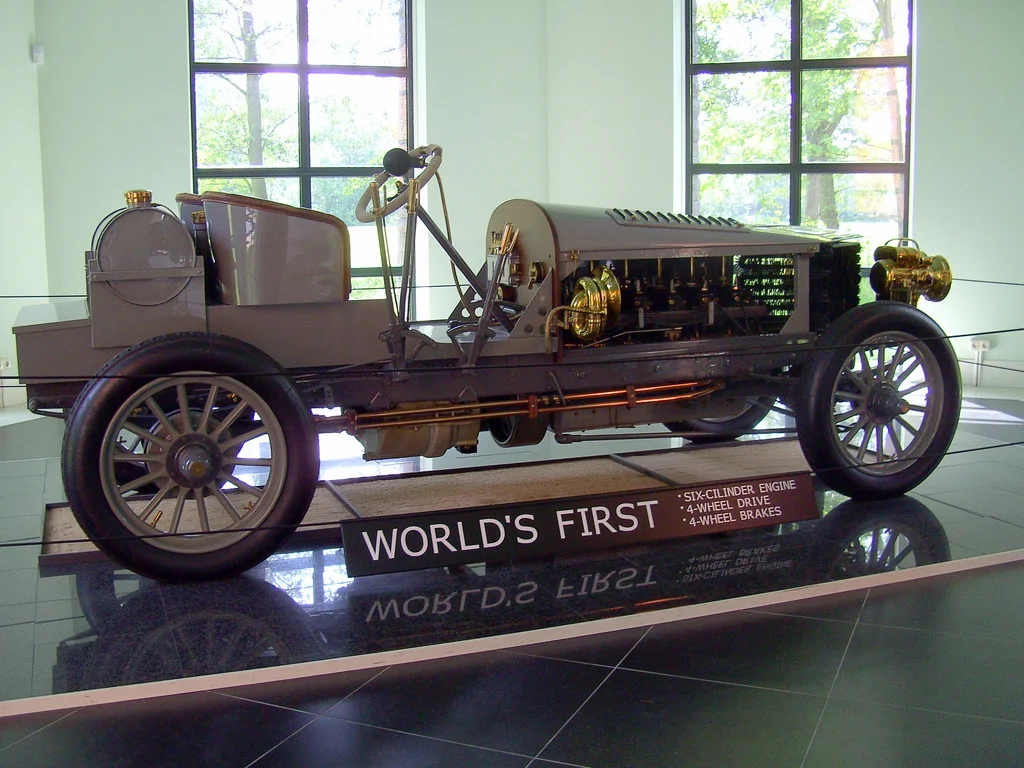 The spectacular 4×4 Ford trucks come with conventional suspensions and reduced ground clearance. These trucks have a manual transition between 2WD and 4WD operating modes and from 4HI to 4LO mode while the vehicle rest. Despite its manual handling, the exciting ride it offers is exceptional. Its Drivetrain Improve Capability is an excellent feature to have while heading into the wilderness as it is linked with tearing across rough tracks.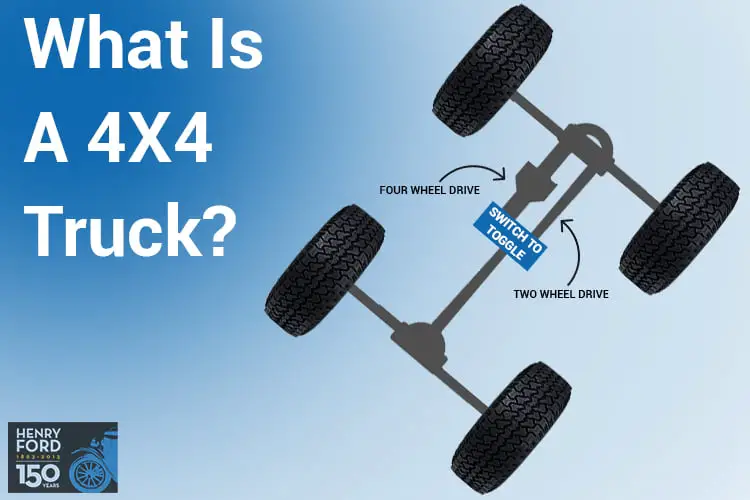 ---
What is the FX4 package?
Fx4 is a proprietary name of Ford's off-road package trucks that gets additional features for better functionality on rugged landscapes. Fx4 are to Fords, what Z71 package is to Chevy. The Fx4 package is available on both F-Series and Ranger Ford trucks. 
Talking about the Fx4 origin, in the early 2000s, the 4×4 got an epic modification, and Fx4 was born. These trucks are using decals on their latest models to show that they have some extra features. They resemble 4×4 pickup trucks but have slight functionality and internal structure changes. For Fx4, Ford borrowed the concept from its earlier model, the Ford Bronco.
Fx4 looks similar and gives almost the same performance as the non-FX4 pickups. However, the additional features from the package make Fx4 superior to their companions. This package provides relief to the drivers when they embark on thrilling adventures.
Ford improves their trucks for better functionality through its features and packages. For example, the Fx4 off-road packages for F150 2021 comprise: 
Electronic-locking
Rear-axle 
Rock Crawl drive mode
Offroad-tuned front shocks 
Front differential 
Transfer case and fuel tank skid plates 
FX4 Off-Road box decals 
Floor liners
All vehicles are designed with distinct Fx4 packages. The Super Duty and Ranger Fx4 packages are substantially different from those of the F-series. 
XL, XLT, Lariat, King Ranch, and Platinum trims are the options that can be equipped with the FX4 package. Its electronic-locking rear axle also comes with a 5.0-liter V8, a 3.5-liter EcoBoost V6, a 3.0-liter turbodiesel V6, and a 2.7-liter EcoBoost V6 engine.
---
Ford Fx4 vs. 4×4: Is the FX4 Worth It? (My Final Thoughts)
Despite the greatness of Fx4, we cannot dismiss the fact that 4×4 is surely one of the best pickup truck models in the Ford lineup. The strict driving tests on the pavement have also been successfully passed by the 4×4 trucks. 
On the contrary, the exciting package of Fx4 made off-road traveling a peaceful experience compared to conventional 4×4 pickups. The added features allow us to haul and tow with greater ease and help us get out of challenging, sticky situations comfortably. 
Finally, we can say that the Fx4 truck might not overcome all the tricky trails, but the opportunities it has to offer are worth the hype. If you are planning to spend some decent time in the wilderness or off-road, Fx4 is your best choice. It enhances your vehicle's wear and tear capability and gives you a comfortable experience despite the uneven terrain.  
Though Fx4 might not meet your expectation of serving perfectly in the traverse rough terrain, the convenience it has to offer makes it a popular choice among all car geeks.
---
Frequently Asked Questions
Q1: Does fx4 sit higher?/ Does FX4 have a lift?
Answer:
No, it does not sit higher. The stock height is just the same.
However, you'll still find a slight height difference between Fx4 Fords and the regular 4×4, about .5″. This is due to the tires and rancho shocks equipped with the Fx4 off-road packages.
Q2: Does FX4 ride smoother?
Although there are many conflicting opinions on this matter, I still confidently say 'YES' to this question.
Thanks to the extra advanced features, the ride quality is excellent and stiffer than a non-Fx4. However, you won't notice this difference much in city driving. 
Q3: Is FX4 better than Sport?
It depends on your needs.
If you're looking to make your truck an off-road vehicle for everyday use, the entry-level off-road Fx4 package is the right choice. However, if you just want to make your truck look more aggressive and badass, you should go for the Sport appearance package.