One can get confused about the specs of SRW vs. DRW when shopping for a pickup. You are reading the best article to help you out of such a dilemma.
My guide gives a side-by-side comparison of SRW and DRW. There is a table to aid your understanding with critical criteria for discussing the two truck variations.
Read the top tips for selecting the best for you among DRW and SRW pickups before my final thoughts. Don't forget to take a look at the "FAQs" section as well.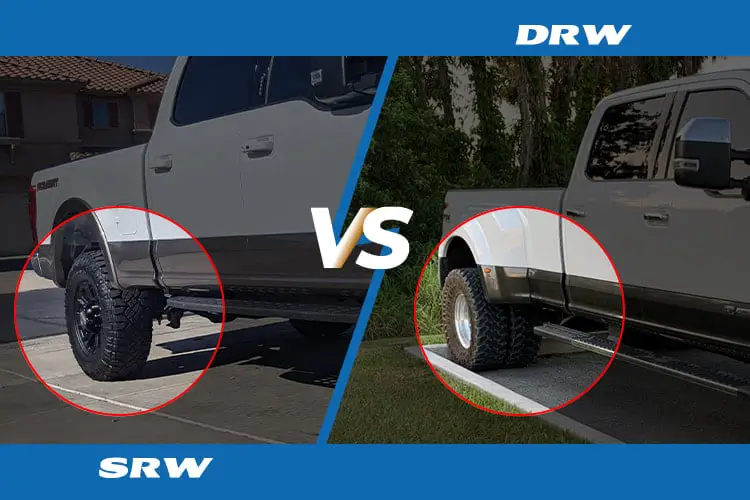 SRW vs. DRW: Side-by-Side Comparison
The comparison table below is a summary of the distinct features between SRW and DRW trucks, followed by a detailed review. Keep in mind that there are dissimilarities to explore in the "pros and cons" section as well. 
Parameters
SRW
DRW
Towing & Payload Capacity
Best for small loads & pulling light trailers
Best for large loads & pulling very heavy trailers
Stability
No extra rear wheels & beefed up rear support to provide optimal stability
Extra rear wheels & enhanced rear support provide optimal stability
Maneuverability
Easy to drive in suburbs, cities, and highways

Easier to park than DRW trucks
Not easy to drive in suburbs, cities, and highways  

Harder to park because of its wider body
Safety
– Slow tire wear & tear means reduced concerns about possible tire blowouts  

– Stability is not reliable against strong winds & driving past a semi  

– A tire blowout may destabilize the truck instantly
– Faster tire wear & tear than an SRW because of the burdens it handles

– Excellent stability for avoiding swaying    

– A tire blowout won't destabilize the truck immediately
Cost
– Cheaper purchasing & maintenance costs

– Better fuel economy
– Higher purchasing & maintenance costs because of additional wheels  

– Reduced fuel economy, especially in the cities
Best Driving Conditions
Driving on paved roads
Rough terrains/off-road driving
Towing & Payload Capacity
A dual-rear-wheel vehicle has a higher towing and payload capacity than a single rear wheel for good reasons. Firstly, the DRW's base and rear support are wider and more upgraded, respectively. Secondly, duallys provide a higher GVWR (gross vehicle weight rating). The difference in towing capacity can be up to 3,000 pounds. Adding the gooseneck feature to your DRW's specs will make it tow even heavier weights.
Stability
The extra rear wheels, added width, and beefed-up rear support on a dually even out the weight of the truck's load to ensure optimal balance and traction. There is less stability for an SRW when towing loads like horse trailers, RVs, and boats.
Maneuverability
It is easy for an SRW to navigate through city roads, but the reverse is the case for a DRW. It is hard for the latter to drive through tight urban streets and get a spot comfortably in a parking lot.
Safety
You have to keep an eye out for faster tire wear and tear on DRW trucks. Their tires (especially the ones at the back) wear faster than those of single rear wheel vehicles. This is why routine tire rotation is recommended. You can worry less about blowouts frequently happening with an SRW. A tire blowout won't destabilize your dually, but it may instantly do so for an SRW.
Additionally, DRW pickups help you tackle crosswinds better. Keep calm as you drive past any semi without the vehicle swaying. This is all thanks to the stability that a dually offers.
Cost
Single wheel trucks have better fuel economy than dual rear wheel trucks. You will be using more fuel per mile while driving the latter than the former. An SRW burns much less fuel. Driving within cities and suburbs reduces a dually's fuel economy further.
What about the cost of the added wheels on a DRW? Getting dually wheels would be more expensive. This difference also similarly reflects tire maintenance costs (rotation and replacement).
Best Driving Conditions
SRW pickups have the best traction on paved roads, while DRW pickups provide excellent traction on non-paved roads. You can easily drive the latter on muddy, snowy, and grassy terrains. It moves steadily against strong winds. A DRW is ideal for rural areas and ranching.
Read more: F350 vs. F450: What Are The REAL Differences?
SRW vs. DRW: Pros and Cons
The DRW vs. SRW comparison has been done, but I think it is a good idea to bring out their pros and cons in a separate subheading. This section will be helpful to you while shopping for either of the two pickup types. See the advantages and disadvantages of purchasing/using Ford DRW and SRW trucks below.
SRW Truck
The abbreviation "SRW" means single rear wheel, the standard wheel layout of practically any vehicle. An SRW truck has a single pair of rear wheels. It is a preferable option for people who want a truck for everyday driving and infrequent towing. Consider it OK for towing small loads or conveying not-so-heavy burdens in truck beds daily. The Ford F150 and F250 SRW are great examples of single rear wheel options.
Pros
Can be converted to a DRW
Easier to drive in suburbs, cities, and highways
You will be saving money on tires
Better fuel economy than with a dually
Suitable for pulling small loads
Some SRW pickups can tow more than certain duallys
Great for transporting loads in the flatbed daily
Cons
Less stability than a dually
SRW trucks can't handle the heaviest of towable burdens
Conditions need to be met to convert to DRW
DRW Truck
The abbreviation "DRW" means dual rear wheel or dually. Several heavy-duty trucks offer this feature as an option, including the Ford F-350. A DRW has two pairs of rear wheels, and it is an excellent choice for those who want to tow weighty burdens, such as large trailers, boats, and RVs.
An SRW pickup must have the right build to qualify it for conversion to a DRW pickup. Features like lengthened fenders and a heftier rear axle should be present before the transformation occurs. You can select between both options on your Ford Super Duty. Examples of great trucks to have the dual rear wheel option on are the F350 and F450.
Pros
Extra wheels even out the weight of the load
More stable on rough terrains

 

Can be converted to an SRW
Safer to drive than single rear wheel trucks
Generally have more towing capacity

 
Cons
More expensive to maintain

 

Difficult to drive in cities

 

Extra tires mean extra maintenance and replacement costs

 

Its wider body makes maneuvering and parking harder

 

Faster tire wear

 

The tires have to be rotated at intervals

 

Greatly reduced fuel economy while driving in cities.

 
SRW vs. DRW: Top Tips for the Best Choice!
I would like to share some advice based on my experience and the special knowledge I gained from watching a YouTube clip about DRW vs. SRW. Read the special tips below.
Tip #1: Get a truck with a diesel engine if you want a DRW that is powerful enough to handle very heavy towing.
Tip #2: Follow the "20%" Rule: Know the pickup's towing capacity. It should be 20% higher than the weight of what you are hauling. It isn't advisable to pull close to the maximum towing capacity of your truck.
Tip #3: Consider the vehicle's transmission, horsepower, torque, and rear-end axle ratio.
Tip #4: Don't believe that buying just any dually will take care of your towing capacity needs. Always remember to read about the towing capacity of the pickup you are looking up. Remember that some SRW trucks can tow more weight than certain DRW trucks.
Tip #5: Take Stability and Traction into account: This is to avoid issues like swaying while in motion. For example, when passing a semi or getting blown by winds.
Tip #6: SRW truck buyers would need to make the necessary modifications and adjustments, especially if you want to pull something fairly heavy. To achieve balance while driving, they will need to add the airbag suspension and slider hitch. You only need to get a hitch for a dual rear wheel truck.
Read more: Ford Rapid Red vs. Race Red vs. Ruby Red: Can't Pick Your Color?
Final Thoughts: What's Better—SRW or DRW?
You can now take your pick with ease after reading my Ford DRW vs. SRW comparison. Just keep the top tips I mentioned in mind while weighing the pros and cons of the two truck variations. Each rear-wheel option is a "better" choice based on what you will be using your Ford pickup for frequently. Check out the FAQs section below just before you go!
---
Frequently Asked Questions
Q1: Is an F350 SRW a 1-Ton Truck?
Answer: Yes, the Ford F350 SRW is a 1-ton pickup.
Q2: Are All 3500s Duallys?
Answer: No, 3500s have DRW and SRW variations.
Q3: Can You Convert an SRW to a DRW?
Answer: Yes, you can perform a direct swap. A DRW axle can be put in an SRW vehicle.
Q4: Why Do Duallys Have Different Front Wheels?
Answer: DRW truck front wheels are different due to the following reasons:
The front wheels can be interchanged with the rear wheels (tire rotation).
So you won't require two different spare tire types.
The rims are different in appearance.
To enhance the aesthetic appeal of your pickup.