Read this Rough Country Lift Kit review if you own a truck, and are seeking to boost your vehicle suspension for the best driving experience on rough terrains.
In my own opinion, this brand's lift kits give great value for an affordable purchase with satisfaction in terms of durability and vehicle compatibility. However, to be honest, the product quality isn't up to the standard of some of their competitors. You will see more details on that as you continue reading.
This may be a complete guide you will ever read on Rough Country Lift Kits. It has a section at the end where I described the product's competitors while making comparisons
Getting to know Rough Country Lift Kits: Is Rough Country a Good Brand?
Rough Country is a popular manufacturer of lift kits. It commenced operations in 1975 as a small-scale store providing aftermarket shocks. The business reached a positive turning point in 1986 when Heckethorn Products Inc bought it. 
Rough Country then upholds its motto, "Get your vehicle lifted for less," by offering standard-quality products at affordable prices.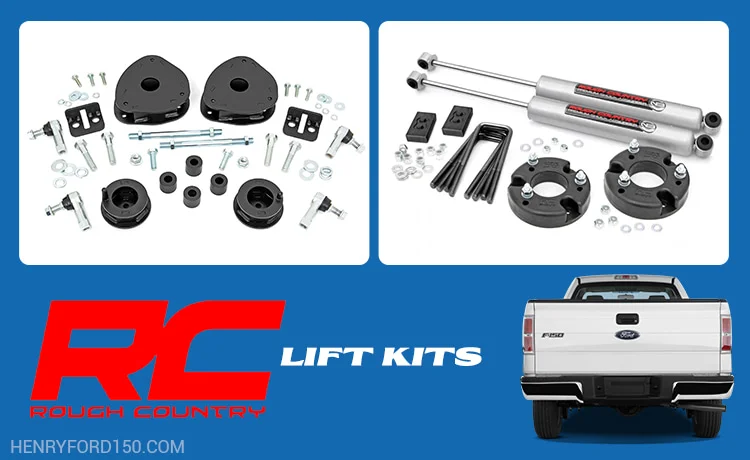 Roungh Country Lift Kits offers its customers a broad range of options for every vehicle type. That range includes body/suspension lift kits for your SUV or truck. Overall, the products are suitable for city driving and light off-roading. The company has done lots of research to develop and enhance the shocks and suspension geometry in their suspension lift kits.
---
BEST SELLING ROUGH COUNTRY LIFT KIT
Rough Country 2.5 Inches Suspension Lift Kit
☑️ For 2004-2008 Ford F-150 2WD/4WD
☑️ Provides best performance for both On-road and Off-road
☑️ Easy at-home bolt-on installation

---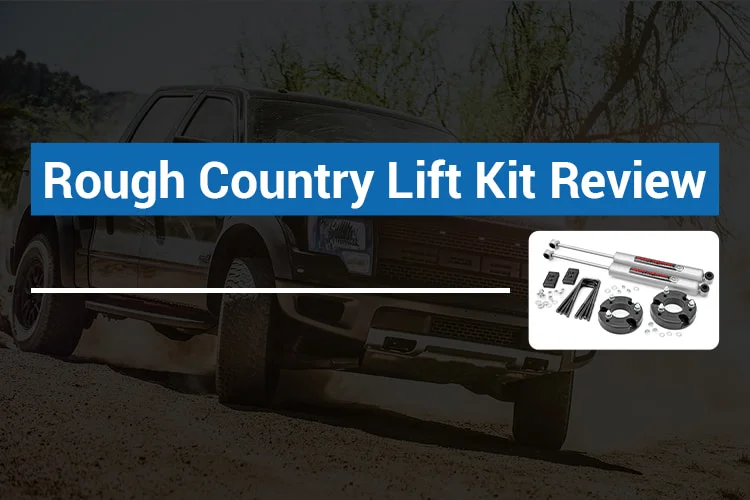 Rough Country Lift Kit Review: An Honest Look
In this section, I will tell you what I experienced while using the product. My parameters will be criteria like shocks quality, ride quality, warranty, durability, and price. Let's start with the service, package, and delivery.
Factor
My brief review
Rating
Service, Package & Delivery
Delays in deliveries and refunds

Missing items

No additional components

Shocks Quality
Tough enough to handle the occasional rough off-roading

Ride Quality
Good so far, except for some steering and alignment issues

Warranty
Excellent Lifetime Replacement Warranty

Durability
Not durable as its competitors

Price
Good affordable price range
Service, Package & Delivery
There have been complaints made against Rough Country on BBB regarding service, package, and delivery by those who either directly ordered from their store or through Amazon. Many buyers have experienced delays when it comes to deliveries and refunds (Oh, did I just mention the word "refunds"?). Some have had issues getting the exact variant they ordered in their packages.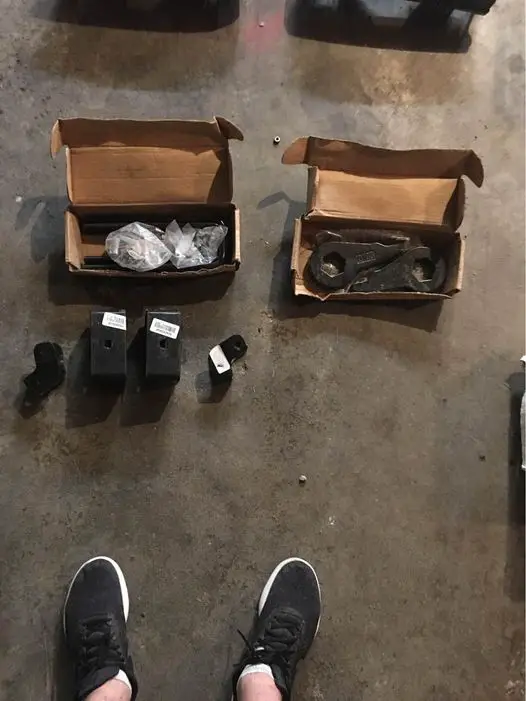 There were some additional components that I didn't find in the kit, such as bump stops and cater correction, which are on lifts from other brands. I guess that is what happens when you go for a cheaper product.
"RC gets its rock bottom pricing by not only production cost-cutting, but their kits are generally incomplete, missing key items . . ."

– User SoK66 stated on a JK-forum thread.
Shocks Quality
I must say that the shocks were tough enough to handle the rough off-roading I occasionally did. 
To be honest, the shocks don't ride as smoothly as those of other brands. They can't handle stress as well as the others, either. But I can say their quality is satisfactory enough based on what I paid for my Rough Country lifts.
"We do hard stuff. We smash the shocks . . . Full flex, full articulation . . . And I'm going to tell you; the Rough Country Lift Kit has held up superbly."

– One reviewer on YouTube had this to say.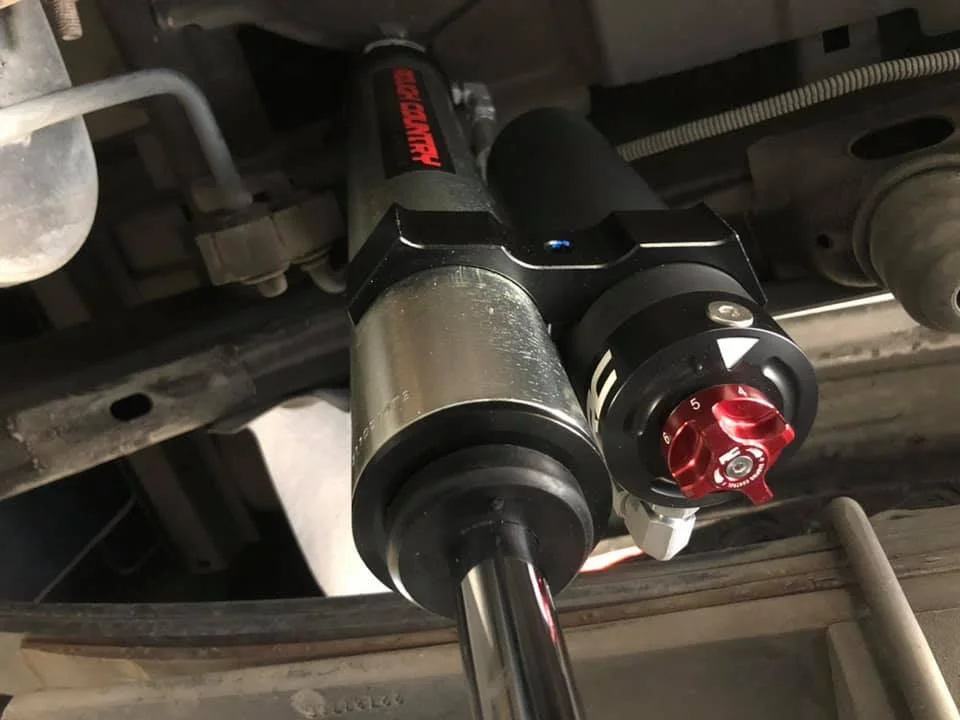 Also, it says "Made in China" on the body of the shocks. I don't have a problem with any part of the shocks being made outside the US. They are good enough for my truck.
Ride Quality
I will say that the performance has been good so far, except for the times I faced steering issues. It rides a bit rough occasionally. The lift performs as well as stocks.
"It runs as good as stock. It just does. Even after all the wheeling . . . sometimes two or three times a week."

– A Youtuber had this to say on his video reviewing Rough Country lift kits.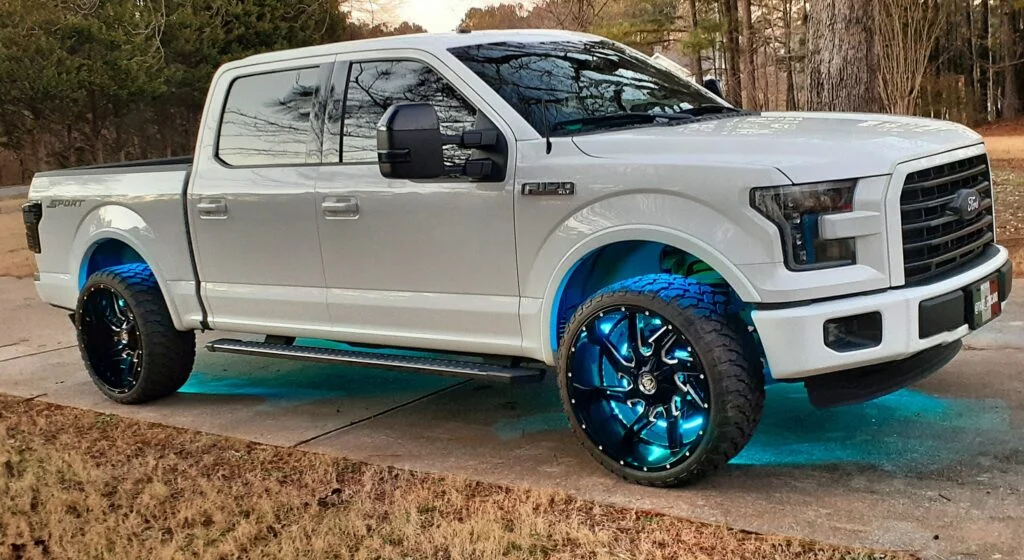 There was one time when I had problems with alignment after a few months. One reviewer on a Ford Trucks Enthusiasts thread complained about the alignment. He wrote:
"The ride quality was quite good, but that was the only good thing about it . . . the truck would not stay in alignment for more than 3 months at a time."
Warranty
Rough Country places a Lifetime Replacement Warranty on most of its suspension products. The company has a good rep for honoring warranties. I think I'm safe with that in mind.
You are covered by a Lifetime Replacement Warranty on your lift kit on the condition that you follow Rough Country's installation and usage instructions. Therefore, rest assured that the manufacturer is ready to replace the faulty component or kit free of charge! A lifetime warranty implies the kit's lifespan or once the company stops making replacement parts.
Durability
The product isn't as durable as its alternatives, but I am satisfied that there are replacement lift kit parts being sold. I am already thinking about getting replacement lift kits—possibly from another brand. I can tell the lift won't last as long as those from other brands.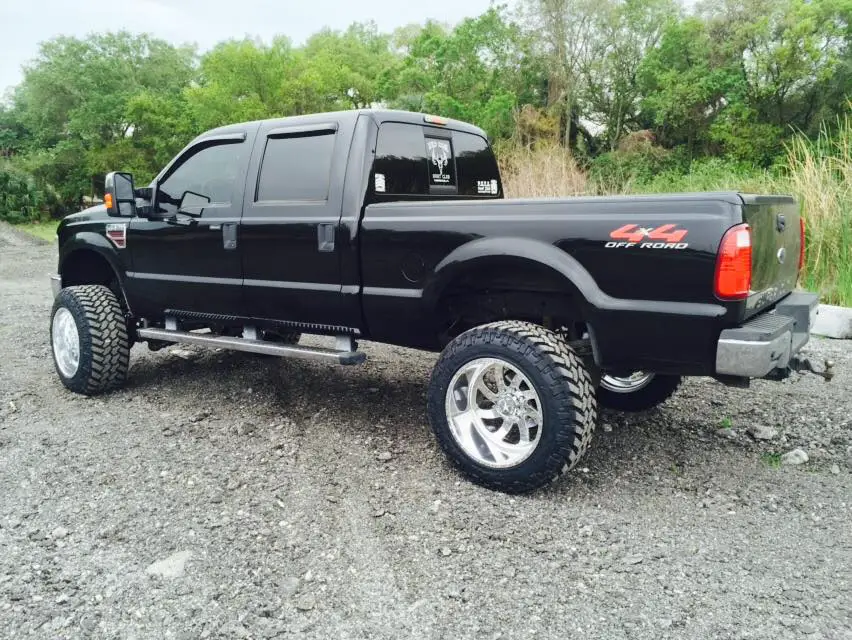 Price
Actually, I didn't have to break the bank to get my Rough County lifts. Rough Country has been able to make lift kits with decent quality that are around a third of the prices of their competitors! The price range on Amazon is $139-$750. 
The scary thing about Rough Country is that the quality is in line with the low price. You'll get what you pay for, for sure. Do you get what I mean?
Rough Country 2.5″ Suspension Lift Kit
2004-2008 Ford F-150 2WD/4WD
Rough Country 2″ Leveling Lift Kit w/N3 Shocks
2009-2020 Ford F-150
Rough Country 6″ Suspension Lift Kit
2015-2020 Ford F-150 4WD
---
What Others Are Reading?
6 Best F150 Leveling Kits 2022 [Review & Buying Guide]
TRQ Struts Review: Are TRQ Struts Any Good?
---
Rough Country Lift Kit Review: What I Like & What I Don't Like
The pros and cons mentioned under this subheading will help you decide based on the Rough Country lift kit's advantages and disadvantages. I will help you reach a verdict with my conclusion in the next section.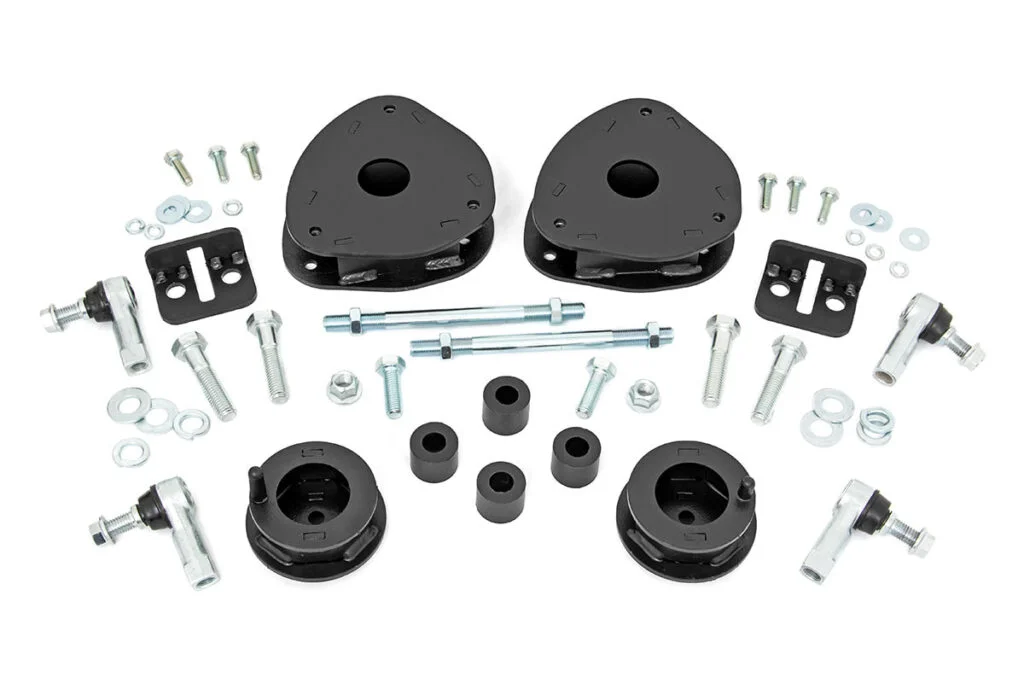 What I Like
✅ Rough Country Lift kits are available for all kinds of vehicles, so your SUV or truck will most likely be covered.
✅ The product's durability has been fine for me so far, and I think it is worth my money.
✅ The products are mostly US-made, although some aftermarket components are manufactured in China.
✅ You will love the price range of Rountry Lift Kits. This is the major thing that gets the buyers, apart from the value for their money. For example, the kits feature standard-quality shocks. You can also save on shipping costs because Rough Country offers buyers free shipping.
✅ Rest assured that this brand has an A+ with the BBB (Better Business Bureau), although they have not been accredited by the bureau yet.
✅ I found the installation process easy. This was thanks to the comprehensive instruction manual. The process didn't take too long either—just a few hours.
What I Don't Like
✖ I found out that the product's quality isn't up to the standard of some other popular lift kit manufacturers. Mine rusts easily.
✖ You will find out that Rough Country has many negative reviews when browsing online forums. The brand has a bad rep among truckers.
✖ There is poor customer service sometimes.
✖ My Rough Country lifts ride a bit rough at times, so the ride quality isn't perfect.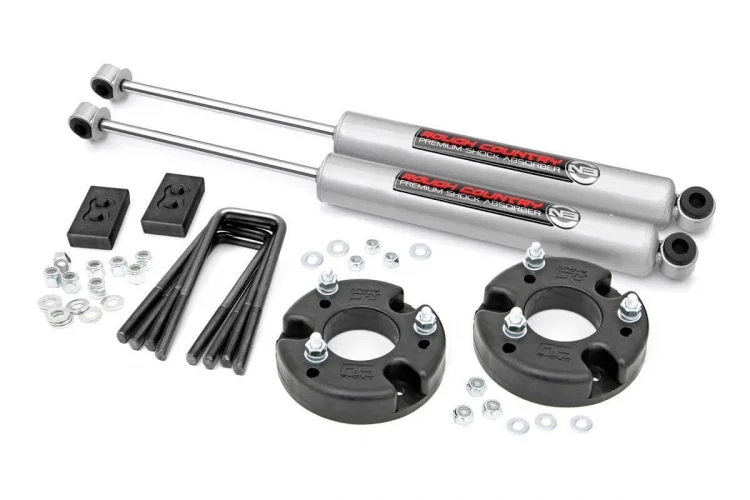 Rough Country Lift Kit Review: Some Final Thoughts
Rough Country is a preferable brand for pricing, so you can be sure to get something that suits you if you are on a budget. You can also get the products even if you don't have the total amount to pay upfront. A payment plan is being offered to those that have good credits.
However, this isn't the best brand for lift kits in the industry. Others surpass it in terms of capability and durability. Check them out under the next subheading to see the differences between products and see how they are better than each other. You will definitely find something you like on the list, apart from Rough Country's offerings.
Rough Country 2.5″ Suspension Lift Kit
2004-2008 Ford F-150 2WD/4WD
Rough Country 2″ Leveling Lift Kit w/N3 Shocks
2009-2020 Ford F-150
Rough Country 6″ Suspension Lift Kit
2015-2020 Ford F-150 4WD
Rough Country Lift Kit Alternative
I felt that a comparison between lift kit brands would be important for my readers if they didn't want to purchase lift kits from Rough Country. The four Rough Country Lift Kits competitors that I will discuss here are popular products among lift kit truck owners who use lift kits. They include BDS lift kit, Rancho lift kit, Bilstein, and Fox.
BDS Lift Kit
BDS Lift Kit
☑️ Better shocks quality
☑️ Suitable for everyday off-roaders
☑️ Heavy-duty manufacturing and very thick U bolts
BDS is one name that you will hear a lot in the suspension lift kit market for good reasons. This brand offers the best warranty on lift kits in the industry. And this comes with great merits like heavy-duty manufacturing and very thick U bolts, which point to the brand's ultra-durability.
Lift kits from BDS are better than Rough Country in terms of shocks quality. The former's kits are suitable for everyday off-roaders. The latter can't handle that kind of stress. Don't buy BDS lift kits like the 6-inch variant if you would be doing more of highway or street driving. BDS' pricing is on the high side compared to Rough Country.
Rancho Lift Kits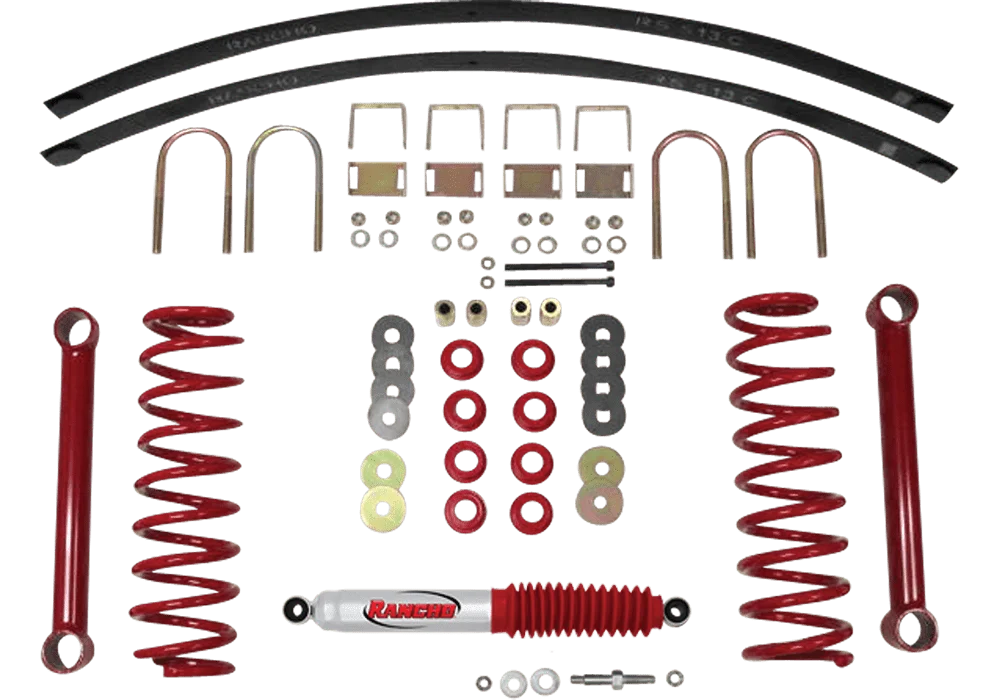 BDS Lift Kit

☑️ Better quality
☑️ Align to OE specs
☑️ Manufactured using CAD components
Rancho Lift Kits are made by Tenneco Inc. They have a better quality than Rough Country's products, but you would have to pay more for the former. Rancho Lift Kits are harder to install as well.
Notable among Rancho's range of lift kits are the 4.5-inch and 6-inch types. They align to OE specs and do well on wet off-road adventures. The kits are manufactured using CAD (computer-aided design) components. Another great spec is the one-piece reinforced subframe. Buyers can get them with multiple shock options.
Bilstein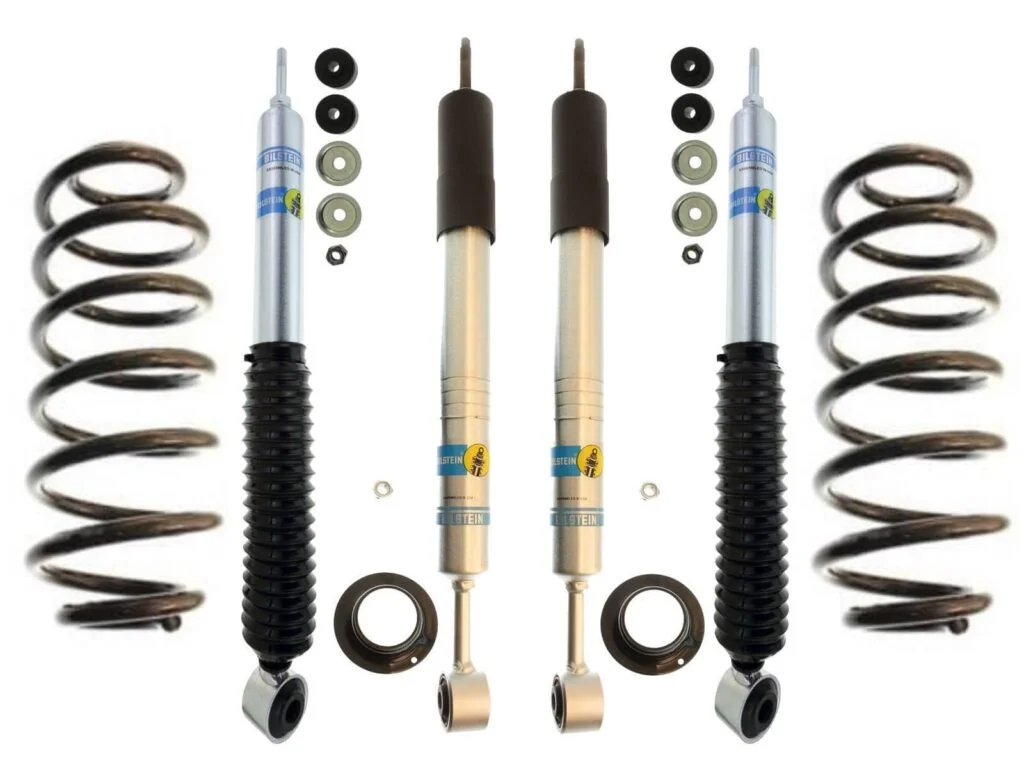 Bilstein Lift Kit

☑️ Give better ride quality
☑️ Reasonably priced in line with its quality
☑️ Fairly easy DIY installation process
Bilstein is great for those that drive more on the highway. Products like the Bilstein 5100 will give you a better ride quality than the Rancho and Rough Country. Some reviewers complain about their Bilstein 5100s riding badly on the top setting, while others have had a contrary experience admitting that it rides great. It depends on the truck you have it on. This brand is popular among Toyota truck owners.
The price range of Rough Country kits is lower than those of Bilstein. You might want to think twice about settling for the latter, provided that your mind is set on something affordable. But keep in mind that the Bilstein 5100 is reasonably priced in line with its quality. Buyers will enjoy a fairly easy DIY installation process. No welding or cutting is required because it is a complete bolt-on solution.
Fox
Fox Lift Kit

☑️ Considered one of the best in the market
☑️ Enhance your on-road and off-road experience
☑️ Easy to install
Fox is a popular Lift Kit provider in the industry, and its products are considered one of the best in the market. It's because this brand is good for truckers that do a lot of off-road driving. Fox Lift Kits are expensive but rebuildable, so you don't have to worry about swapping them out later. They are serviceable as well. Still, Rough Country lifts are cheaper.
Another merit is that installing the lift kit will enhance your experience on road—not just off-road. The ride is much firmer than what you get with the stock. On a GMFullsize.com forum thread, one reviewer complained that Rough Country lift kits are too stiff compared to Fox (and Bilstein).
Fox products are easy to install but difficult to adjust. The installation takes less than a day. Many users have claimed that they had theirs set up in just 3-4 hours. Lastly, you may want to consider the negative reviews against this brand's customer service.
---
More From Henry Ford 150