The Ford 7.3 gas is a very powerful engine, and that is why it has the nickname "Godzilla." But its reliability has been questioned after the emergence of various Ford 7.3 gas problems.
My guide treats the most common problems of that engine with solutions included. You will also read about important 7.3 gas specs (chart included).
So, all in all, is it a good engine? You will find the answer after reading through this article.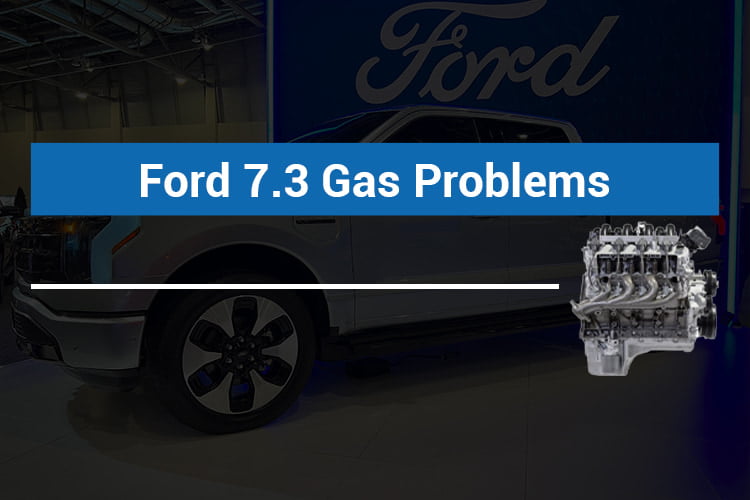 Most Common Ford 7.3 Gas Problems
This section discusses four common issues that affect Ford 7.3 gas reliability as well as steps to rectify them. I'll also state Ford's response to the most serious issue.
Spark Plug Wiring Harness Issues
The Ford 7.3L V8 has a flaw in its design that makes the exhaust headers burn the spark plug wires. The wires aren't well-made and properly positioned. They pass close to the exhaust headers to link the spark plugs with the coil packs. This makes them become too hot and get short out, causing the engine to arc.
It is a very serious problem that can cause an engine misfire and stop the vehicle in its tracks. Your truck may be unable to start afterward. The wires will stop passing electrical current to the spark plugs, producing no spark.
How did Ford respond to this problem?
Ford identified the problem after some time and referred to it as a factory fault. In response, they published the TSB Issue 20-2370 on November 9, 2020.
The new wiring harness will be accessible to customers for any malfunction that may occur under warranty. This was after the third-party manufacturer rectified the wiring defects.
A complaint about the 2020 Ford Super Duty vehicles and 2021 Ford Chassis motorhomes also came up. It was related to the defect mentioned above. Backorder delays became a thing for the replacement components. Many dealerships didn't have reliable information about the expected time of arrival of the needed parts.
Ford gave the assurance that the company would ensure there were enough parts to go around based on the demand. They directed all concerned customers to contact their local dealers to obtain the parts.
Preventive Measures
You would be lucky to know preventive measures against this problem before experiencing it. The hassles and expenses that one may bear in getting the fault fixed can be very unpleasant. For example, you may have to go long distances to get professional help or pay a huge sum for a tow service.
Change the spark plug wires as a preventive measure. Replace them with high-temperature shielded wires or cover them with wire shields for temporary protection. Utilizing header heat wrap for the eight headers is a good idea.
Atrocious Gas Mileage
The engine achieves 12 miles per gallon (MPG) when driving on highways and city roads. That mileage will be lower when towing, besides the addition of passengers and/or cargo. You may get as low as 9mpg from towing a trailer. This issue is not serious, and you will have to make do with the fuel economy.
Transmission Problem [Reported On 2020 F250 10-Speed Transmission]
There is also the matter of transmission hassles which make handling difficult due to rough gear shifts. The symptoms usually include the sound of grinding metal and the accumulation of metal shavings. This is a very serious issue that requires you to replace the transmission. What you have to do is to swap out Gen 1 transmissions with Gen 2 transmissions.
Isolated Issues
Problems like cylinder scoring and jammed lifters are the other 7.3 gas (Ford) troubles several vehicle owners have experienced. These problems were usually popping up as isolated issues.
Note: Ford vehicles come with warranty years of roadside coverage. Take advantage of the Lemon Law in your state, if any. You can read about these topics in the vehicle owner's manual.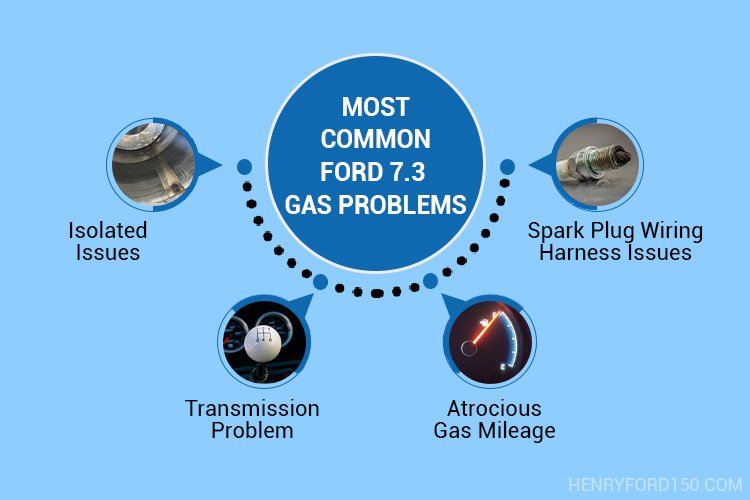 Read more: Ford F150 Radio Not Working: Why and How to solve it? [Tips & tricks]
Ford 7.3 Gas Specs: Why It Is Named 'Godzilla'?
The Ford 7.3L gas is a big-block V8 engine that started selling in 2020. Its predecessor is the 6.8 Triton V10 engine, but it was offered as an update to the standard 6.2L V8 Boss engine (F350 and F250 models). It is the base engine for the F450 to F600 models, including the E350. This is the first pushrod V8 launched by Ford in more than two decades. It wasn't built based on the modular Coyote design but the classic cam-in block pushrod plan.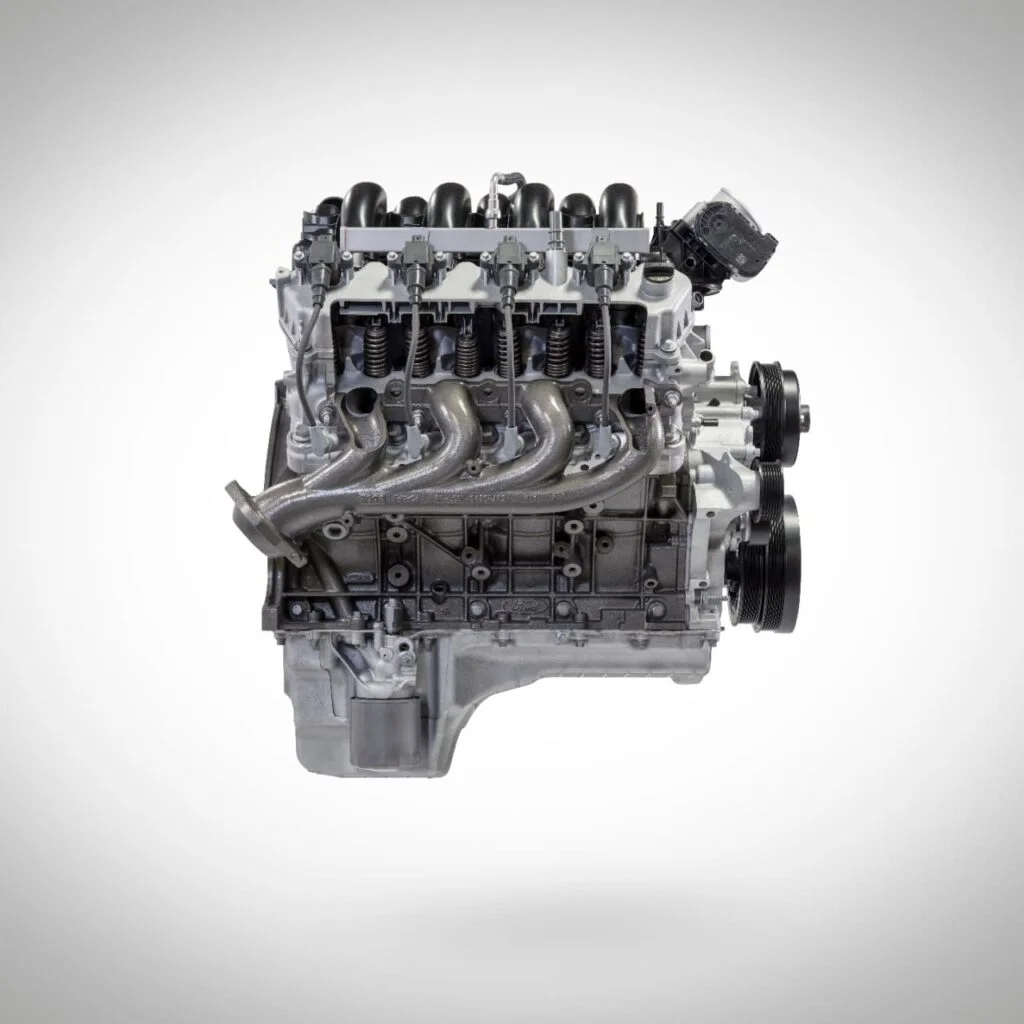 Ford 7.3 Gas Specs Chart
Criteria
Characteristics
Forerunner
6.8 Triton V10
Displacement
7.3L, 444.9 cubic inches
Weight
920 pounds
Aspiration
Naturally/normally aspirated
Piston Stroke
101.0 millimeters/3.976 inches
Cylinder Bore
107.2 millimeters/4.22 inches
Heads
Aluminum
Block
Cast iron
Valve Train
OHV (overhead valve); variable valve timing
Compression
10.5:1
Torque
475lb-ft.; 4,000rpm
Horsepower
430hp; 5,500rpm
Transmission
10-speed auto
Fueling
Multi-port fuel injection
Oil  Capacity
8 quartz
Gas Mileage/MPG (Miles Per Gallon)
MPG while driving on highways/city roads: 12mpg 

MPG while towing: 8-9mpg
Towing Capacity
F-250 Super Duty: Up to 19,500 pounds

F-350 Super Duty SRW: Up to 21,000 pounds

F-350 Dually: Up to 21,200

F-450: Up to 37,000 pounds

F-600: 22,000 – 30,000 pounds
You can say that the horsepower (430hp) and torque (475lb-ft.) generated by this engine are below expectation when its size is considered. Bolt-on adjustments can be made to provide a boost. It can hit 600hp with the basic bolt-on customizations.
Modders believe that the Ford 7.3 gas can reach 900hp on the stock block and head without compromising performance. 1,100hp has been generated on a twin-turbo configuration despite the stock camshaft, pistons, and rods present. 800hp has been produced with a few important enhancements without forced induction. Aftermarket supercharger products can help the stock block, internals, and heads hit 1,000hp and certainly 1,400hp.
Other Specs
What other physical features indicate that this engine is a powerful beast? It has an iron block, 6-bolt mains, and a forged crank. The engine is normally aspirated, which means that it has no supercharger or turbocharger. You can use this engine as a performance crate engine for substitutions, but it isn't available as a factory option for Ford's lower-level performance vehicles.
Note:  Ford released the Godzilla as a bridge between the Turbo-Diesel 6.7L Power Stroke engine and the 6.2L V8 Boss engine.
Is the 7.3 Gas a Good Engine?
I will give my Ford 7.3 gas review here based on other Ford 7.3 gas reviews. It is a very strong engine, notwithstanding the possible troubles that I have described. The manufacturers prioritize power over the fuel economy with the design.
There is rarely any major engine part flop that can make the vehicle immobile. Critical problems with the block and internal parts shouldn't be experienced considering their sturdiness and capabilities. But you should still expect possible disastrous engine collapses.
People praise Ford 7.3 gas reliability for its great benefit to vehicles carrying or towing weighty loads. It should be able to go beyond a mileage of 300,000, even with heavy towing. Ford made this engine to attain a high-powered performance and appropriate fuel efficiency. This beast has been tested to hit as high as 13.7mpg while driving on highways and in cities. Check the video below.
Final Thoughts
You can get the Ford 7.3 gas with the mind that preventive measures will be taken against the problems mentioned earlier. Ensure that your local dealership has all the required parts in stock as well. Hire a professional for whatever repairs or replacements need to be performed.
From my experience, it's not advisable to purchase a first model year run of any engine. They want the first set of buyers to be the test subjects to help uncover design flaws.
Read more: Trailer Running Lights Not Working? Here're 4 Most Common Reasons & Solutions