Different Mercon fluids have varying consistencies, making choosing an automatic transmission fluid (ATF) difficult. Just be careful! Pouring a transmission fluid that is not compatible with your Ford engine can cause irreversible damage.
In short, because the original Mercon is no longer available, Mercon V is always the right choice for a Ford engine. Nonetheless, Motorcraft Mercon LV is a high-quality transmission fluid with unique compatibility, while Mercon SP has an even higher viscosity.
Is it too complicated? No worries. This guide will give you a detailed comparison of those four Mercon transmission fluids.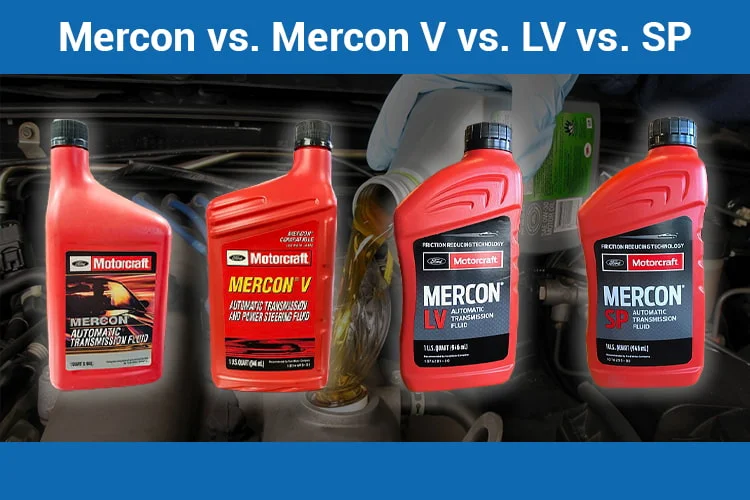 Mercon vs. Mercon V vs. Mercon LV vs. Mercon SP: Key Differences
Comparing various Mercon ATFs using a table will better highlight their difference. Mercon Vs. Mercon V vs. LV Vs. SP is explained quickly and straightforwardly using the chart below.
Mercon ATFs: Comparison Chart
 
Mercon
Mercon V
Mercon LV
Mercon SP
Viscosity
Moderate viscosity
Higher viscosity
Lowest viscosity
Highest viscosity
Usability & Compatibility
Used for older Ford vehicles.


Compatible with Type H and Type CJ fluids models.
For various Ford models and can also be used as a power steering fluid.


Compatible with Type C, type H fluids and Dexron III transmission fluids.
Best for Lincoln, Ford, and Mercury.


Compatible with SAE 20 W viscosity grade or ISO 46 hydraulic oil.
Mostly used in cold temperatures for Ford models with 6R60 and early 6R80 transmissions.
Performance
Guards the engine against rust and corrosion.


Lubricates the engine parts for improved functionality.


Protects the engine from wear & tear.


Prevents corrosion, and delivers swift shifting performance under low temperatures.


Increases the service life of the engine and also protects it from oxidation and heat.
Protects the engine against wear and tear.


Obstructs the formation of gum and sludge to deliver smooth transmission.


Guards the engine against transmission shudder.


Mercon vs. Mercon V
Mercon is an older type of automatic transmission fluid introduced in 1987 as a trademark product by Ford Motor Co. Mercon is similar to Dexron II.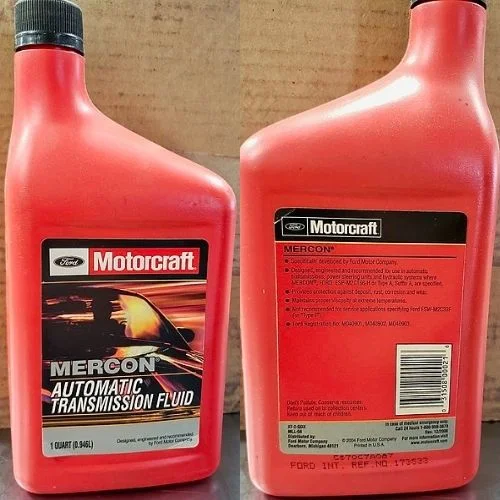 Still, the company ceased the licensing for the original Mercon in 2007 and recommended all Ford owners shift to Mercon V, which is more powerful and effective. However, it is not a suitable replacement for Type F fluid.
Another choice for Mercon users is shifting to Dex/Merc ATFs. It's completely compatible with the original Mercon.
Mercon V has more additives as compared to Mercon. Being an updated version of the former Mercon, it has a higher viscosity index. Users having a Mercon vs. Mercon V comparison will mostly incline more towards Mercon V as it has a higher viscosity and thinner density. Due to the stable consistency, it performs better in cold climates preventing friction and abrasion.
Additionally, Mercon was compatible with older Ford models, while Mercon V is compatible with all newer Ford models. Also, Mercon V has additives and a chemical formula similar to Dexron III. This makes Mercon V equivalent to Dexron III. Unlike Mercon, Mercon V is also a fine replacement for Type CJ and Type H fluids with Mercon.
However, both ATFs are incompatible with Type F fluid, which was popularly used between the 1970s and the 1980s. Since it was used for older Ford models, it is incompatible with Mercon ATFs.
---
Best DEX/MERC & MERCON V Transmission Fluids
Castrol 03520C TRANSMAX DEX/MERC ATF
✅ Best Mercon replacement
✅ Effective & inexpensive
✅ Meets all Ford requirements
✅ Offers excellent high-temperature protection, improved friction durability & unsurpassed oxidation resistance

Genuine Ford XT-5-5QM MERCON-V ATF
✅ Premium-quality OEM fluid for Ford transmission & power steering changes
✅ Dyed in Red to detect leaks
✅ Provides smooth shifting performance, excellent wear, rust & corrosion protection

---
What Do People Say About Mercon & Mercon V?
I found these interesting opinions regarding the Mercon vs. Mercon V debate on a thread on Bob Is The Oil Guy:
"Main difference is better/enhanced friction modifiers. That is why Mercon V is actually NOT recommended for clutch type transfer cases."

– Ford46guy member
"I used old Mercon in my 1997 Lincoln Continental AX4N for 230K+ miles. Never an issue. Smooth as silk. The engine died first. The transmission never even shuddered once on 25K OCI's of mostly highway driving. It wasn't until after I sold that car that I found out it should have been getting Mercon V all along….or at least it was back specced to Mercon V in 2001.

My 2002 Lincoln lived on Mercon V for 83K miles until the car was totaled in an accident. The transmission was silky smooth too. My current 2001 Lincoln is using Mercon V and also silky smooth transmission. That's 365K total miles on 3 cars and never the slightest issue with the transmission… In my reading Mercon is closer to a conventional fluid. Mercon V is semi-synthetic or blend. Their slight difference in viscosity is negligible imo…With a Viscosity of 7.5 cSt @100C I wouldn't want to use a Dex 6 or LV ATF which has a 5.5-6.0 cSt viscosity. The Mercon shears about 2X as fast as the Mercon V…"

– 69GTX member
Mercon V vs. Mercon LV
Now let's continue with our Mercon LV Vs. Mercon V comparison.
Mercon V and Mercon LV are both automatic transmission fluids, but their chemical composition has different characteristics. While Mercon V is a first-rated transmission oil proposed by the Ford brand, Mercon LV is a 100% synthetic ATF. The Mercon LV is an upgraded Ford ATF that uses advanced additive technology and high-quality material, delivering exceptional performance.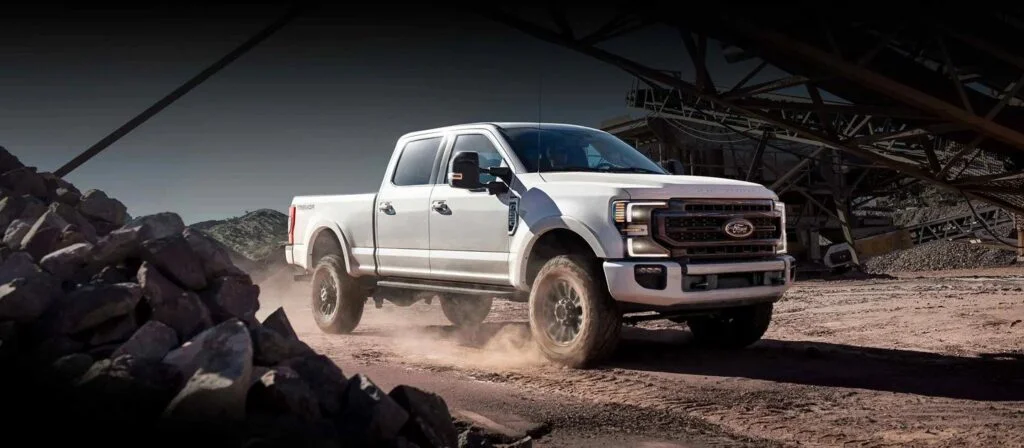 Compared to Mercon V, Mercon LV has low viscosity and thicker consistency. Engine running on the Mercon LV provides outstanding performance in all temperatures. The transmission fluid becomes more viscous with high temperatures. It is also strongly resistant to oxidation and heat, ultimately increasing the engine's service life. Mercon LV, however, is not compatible with any other Mercon ATFs. Since designed for modern transmission engines, it can replace older GM Dexron transmissions.
On the other hand, Mercon V has a higher viscosity and is slightly thinner than Mercon LV. This allows Mercon V to deliver superior performance in low and high temperatures. Compared to Mercon LV, Mercon V can effectively prevent traction between the engine parts.
Furthermore, a Mercon V Vs. LV comparison will also help you realize that Mercon V is ideally used as hydraulic oil for several industrial applications due to its high corrosion resistance properties. It is a premium quality ATF that meets the demands of ISO 46 or SAE 20W viscosity grade specification. This makes Mercon V the better power-pumping fluid as compared to Mercon LV.
---
Best MERCON LV Transmission Fluid
Ford XT-10-QLVC Mercon LV ATF
✅ Great value – 'the life blood of transmission'
✅ Ford OEM recommended ATF
✅ Perfect shifting
✅ Increased gas mileage
✅ Best choice to extend the life of your transmission

---
What Do People Say About Mercon V & Mercon LV?
Below are some comments I came across regarding the debate:
"The only difference in V and LV is a small amount of viscosity that lowered on the LV to help mileage. I'm running both mixed in my Nissan to lower trans fluid cost vs. OEM and it runs great."

– amc49 on a Focus Fanatics forum's discussion.
"I believe the LV is much thinner, if your car originally required V but the spec has been updated to LV I would stick with Mercon V, as the thinner fluid could cause issues in transmissions made for thicker fluids."

– Ryan Peck on Quora.
Mercon LV vs. Mercon SP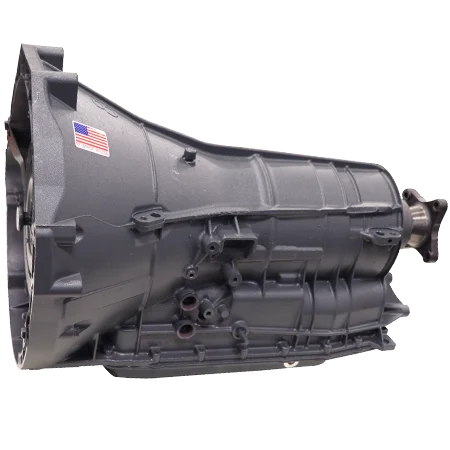 Mercon SP and Mercon LV are similar in many ways. Mercon SP has all those amazing properties that you will find in Mercon LV. The tiniest difference is that Mercon SP is adequate for Ford 6R60 and 6R80 transmissions. You will discover Mercon SP similar to Mercon LV in terms of specs. You can also mix the two fluids in the 5R110 transmission without compromising the performance of your engine.
(Image credit: jasperengines.com)
---
Best MERCON SP Transmission Fluid
Motorcraft Mercon SP XT-6-QSP Transmission Fluid
✅ Ford OEM recommended ATF
✅ Premium-quality at inexpensive cost
✅ Improved durability and torque handling capacity in TorqShift transmissions

---
What Do People Say About Mercon LV & Mercon SP?
Let's read some interesting opinions from Ford users:
"The only thing I know for sure is my direct clutch is shot at 95k miles with 2 LV fluid changes on a stock truck. Honestly, if I wasn't doing trannies for years and had a surplus of warranty paid LV I never would have put it in my transmission.
The fact is SP never went away and the only trans I'm familiar with that said it was okay to switch from SP to LV is the torqshift 5R110. There are only several trannies that use SP still, the only one I know offhand is the 6R60."

– sinner6.0L on Powerstroke.org
"LV superseded SP and they are completely compatible and mixable. The SP at one time was supposed to be discontinued but apparently that never happened or they had one hell of a stock built up."

– 69cj shared his thoughts on Ford Trucks Enthusiasts forum.
---
Read more: 5 Best Oils for 3.5 EcoBoost [Review & Buying Guide]
Mercon vs. Mercon V vs. LV vs. SP: Frequently Asked Questions
Q: Can you mix Mercon and Mercon V?
Answer: 
As per the Ford manual, Mercon and Mercon V are not fully compatible. Mercon V is an upgraded and improvised version of Mercon. However, Ford users can use Mercon V in all vehicles demanding a Mercon ATF transmission. But mixing the two fluids is not recommended, and it is best to flush out all the Mercon fluid before using the Mercon transmission fluid.
Castrol 03520C Transmax DEX/MERC ATF
Q: Can you use Mercon V in place of Mercon LV?
Answer: 
Mercon V and Mercon LV are both synthetic transmission fluids delivering excellent engine performance. However, Mercon LV has quite different characteristics from Mercon V. Mercon V has a thinner consistency and keeps friction away from the engine. At the same time, Mercon LV is a high-end ATF product with low viscosity. It is a special purpose transmission fluid that is incompatible with any other Mercon.
Genuine Ford XT-5-5QM MERCON-V (5 quarts)
Motorcraft XT5QMC Mercon V (12 quarts case)
Q: Is Mercon LV the same as Dexron VI?
Answer: 
Mercon LV and Dexron VI are both top-quality ATFs, but they have some overlapping in their specifications. Mercon is a Ford composed transmission fluid. And although Dex-VI is better than its ancestors, it is not worth the risk to mix the two fluids. Doing so might affect the performance of your engine.
Ford XT-10-QLVC Mercon LV (5 quarts)
Motorcraft MERCON LV (12 quarts case)
Q: What's the difference between Mercon and Dexron?
Answer: 
Mercon and Dexron are two transmission fluids composed together for different vehicles. Mercon was launched in 1987 to be used within Ford engines. It was later replaced by a more improvised Mercon V, a superior quality transmission fluid. On the other hand, Dexron was used in the General Motor Engine.
The two powerful transmission fluids may have similar physical properties. They have a red texture, but chemically they differ from one another. Mercon has a fire point of 185° and a flashpoint of 170° F. Dexron, on the other hand, has a higher fire point and flashpoint, i.e., 206° and 205°, respectively.
Castrol 03520C Transmax DEX/MERC ATF
Q: What happens if you put the wrong type of transmission fluid in your car?
Answer: 
Transmission fluids serve both as lubricating and hydraulic oil. Using the right kind of ATF increases the life of your engine, helps you in gear shifting, and keeps friction away from the underhood vehicle parts.
So, placing the wrong transmission fluid type can destroy your engine beyond repair. The engine components will have poor lubrication, causing wear and tear. The parts will become overheated, and you will face transmission failure.
Motorcraft Mercon SP (12 quarts case)
Q: Does Ford use ATF for power steering fluid?
Answer: 
Yes, Ford uses ATF for power shifting fluid. This enables the user to change the gear swiftly. It also keeps rust and corrosion away from the moving parts.
Genuine Ford XT-5-5QM MERCON V
---
Read more: Woolwax vs. Fluid Film: Which Protects Your Truck Better?
Mercon vs. Mercon V vs. Mercon LV vs. Mercon SP: Which is better for your vehicle?
The four transmission fluids offer brilliant performance. They differ in terms of viscosity, performance, and densities. With the original Mercon not available in the market, you only have three options: Mercon V, Mercon LV, and Mercon SP. So, choose a transmission fluid, keeping in mind your vehicle type and contemplating its need.