From my experience, draping my F150's seats with the best seat covers protects them from wear and tear and lets me ride comfortably. 
However, selecting seat covers matching my F150 model's seats can be quite challenging given the availability of so many brands, I understand.
That's why I wrote this article. I've sifted through various products to pick the six best F150 seat covers for this review. At the same time, I've included a buying guide listing the standard features of a quality seat cover for F150.
Let's get started!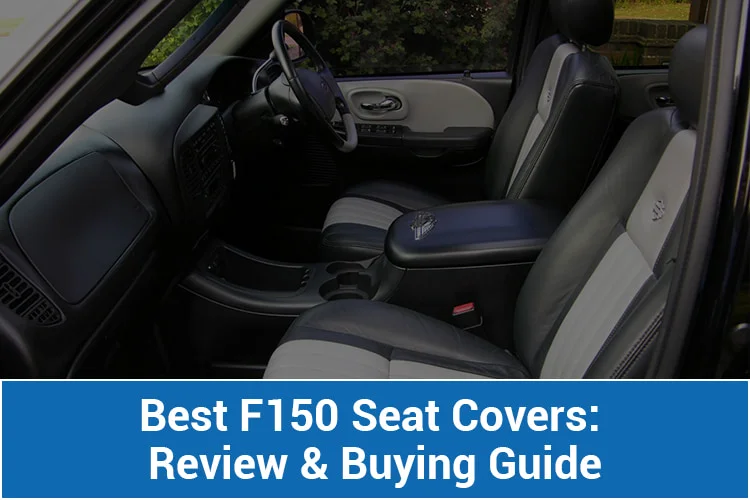 Top 6 Best F150 Seat Covers 
The sheer variety of F150 seat cover brands available out there made selecting the top 6 products quite challenging. However, to make the selection process more manageable, I consulted several F150 forums apart from extensively researching online. Additionally, I delved into numerous websites dedicated to F150 and checked out their buying guide to draw up this list.
Finally, I've selected the 6 Best F150 Seat Covers based on specific parameters such as material, installation ease, comfort, and warranty. Features like construction quality, universal fit, ease of installation, and comfortableness make these seat covers stand out.
Rough Country F&R Neoprene Seat Covers – BEST NEOPRENE
Rough Country F&R Neoprene Seat Covers
✅ Compatible with 2015 – 2021 Ford F-150 (Both 2WD & 4WD)
✅ Seat covers are layered with Neoprene material which is mildew- and water-resistant
✅ Form-fitting
✅ Keeps airbags accessible
✅ Dense foam filling makes the seat extra comfy
I first decided to review the Rough Country Neoprene Seat Covers for good reasons. For a start, I found that these neoprene seat covers comfortably fit my pickup's front and back seats. The manufacturer has designed each cover with meticulous care to ensure a perfect fit allowing me to adjust my seat comfortably. 
The good point of this neoprene seat cover by Rough Country has to be its 4-tiered construction and dense foam padding. The multilayered construction and the thick layer of cushion boost durability while taking snugness to a whole new level. 
However, these seat covers may lose their texture after putting them through a couple of wash cycles. One buyer reported that the headrest and the armrest sections were torn to shreds even after following the washing recommendations. Another reviewer mentioned that the seat covers the rear middle seat did not have any slit for the seat belt.
Pros
4-layer protection
UV-resistant
Backed by a 1-year vehicle-fitment warranty
Cons
Not as easy to install, according to many customers
The cover for the middle seat at the back doesn't have an opening for the shoulder seat belt
Doesn't breathe and causes retention of the body heat that might lead to excessive sweating
These neoprene front and rear seat covers for F150 (model years 2015-2021) fit my pickup immaculately. On the other hand, the seat covers are breathable, and the thick padding facilitates a snug perch. I strongly feel that these Rough Country seat covers make a good buy, the minor drawbacks notwithstanding.
---
What Do People Say About This Seat Covers Set?
"I bought them for the rear seat of my truck about two months ago. No complaints so far, pretty good product especially for the price. Got them specifically because I have a dog that likes to ride around in the back."

– User slickrick42 shared his thoughts on F150forum.com.
I just bought them last week so no long term review but seem to be good quality. I just wanted something to protect my cloth as I tend to get dirty at work. No install instructions but not hard to install. Seems to give a little extra cushion to the seats. Only have about 400 miles on my truck but like them.

– User st8fan talked about Rough Country seat covers on F150forum.com.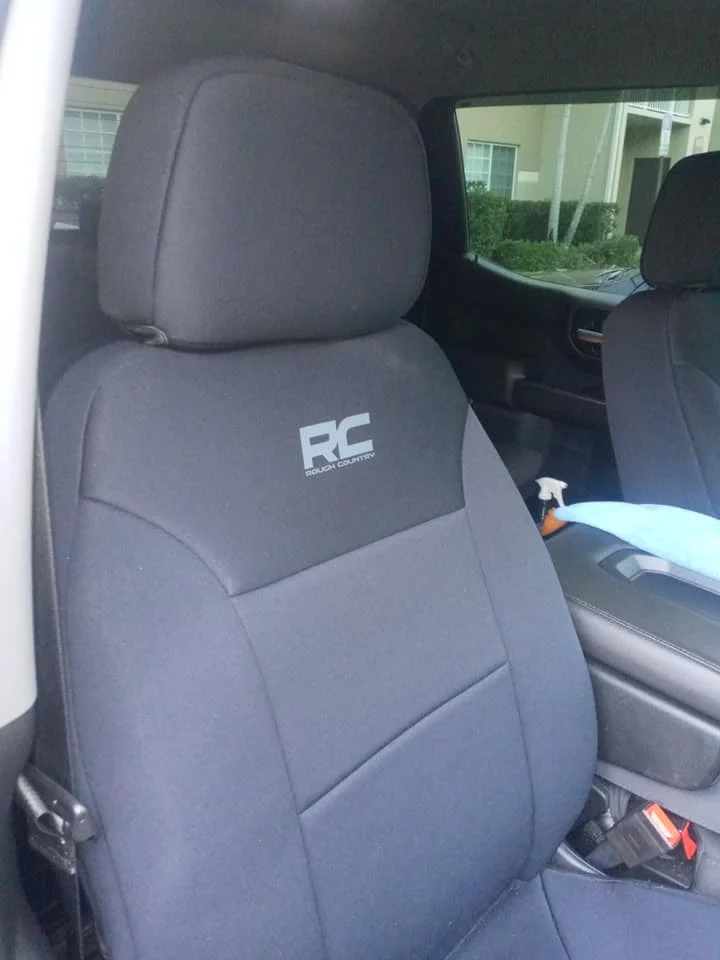 ---
Covercraft Carhartt SeatSaver Custom Seat Cover – BEST CUSTOM-BUILT
Covercraft Carhartt SeatSaver Custom Seat Covers
✅ Compatible with 2009 – 2014 Ford F-150 (See the 2015 – 2018 option below)
✅ Bespoke design and custom-patterned for form-fit installation
✅ Double-overlapping and triple-needle stitching makes the cover robust
✅ Breathable, heavy-duty fabric
✅ Machine washable fabric

The Covercraft Carhartt SeatSaver Custom Seat Covers can easily give the above Rough Country product a run. Yes, these are custom-built and patterned seat covers to guarantee a customized fit created from proprietary Duck Weave fabric. No wonder these bespoke seat covers are amazingly durable and resilient, and the triple-stitched prominent ridges further boost their durability.
I'm confident that these Carhartt custom seat covers will endure as they've been designed to withstand rough handling and wear-and-tear. Reinforced with Rain Defender Technology, Carhartt custom seat covers shield my F150's seats from spills, grime, dirt, and much more. This seat cover fully drapes the front seat's backside and features built-in map pouches helping save storage space.
Carhartt seat covers have separate covering sections for the headrest, armrest, and console, with access points for the seatbelt and safety restraint. There are precise cut-outs for adjustment control and airbags with storage pockets and overlapping triple-stitched seams that boost sturdiness.
Also, these seat covers can be machine washed without sacrificing quality or texture, making these covers immensely versatile. Since this seat cover is crafted out of fabric, there's hardly any padding, making it somewhat less comfortable.
Pros
Solid construction
Machine-washable
Water-repellent
Cons
Doesn't come with proper instructions for fitting the covers
Wrong cut-out for center console, fitting and false advertising photos lead to misunderstanding
Honestly speaking, I think this Covercraft custom seat cover is better than the Rough Country cover in terms of durability. The specialized duck-weave fabric coupled with double-overlapping and triple-stitched seams makes this product incredibly hardy.
---
What Do People Say About This Seat Covers Set?
"I have the carhart covers in brown. I like them more than I thought I would. I hated that they were open on the sides and I thought they would never stay in place. Amazingly they do stay in place very well though. I've had them on about three months with a lot of getting in and out. I'm happy with them."

– User ECinc. shared the experience with Carhatt Covercraft seat covers on F150forum.com.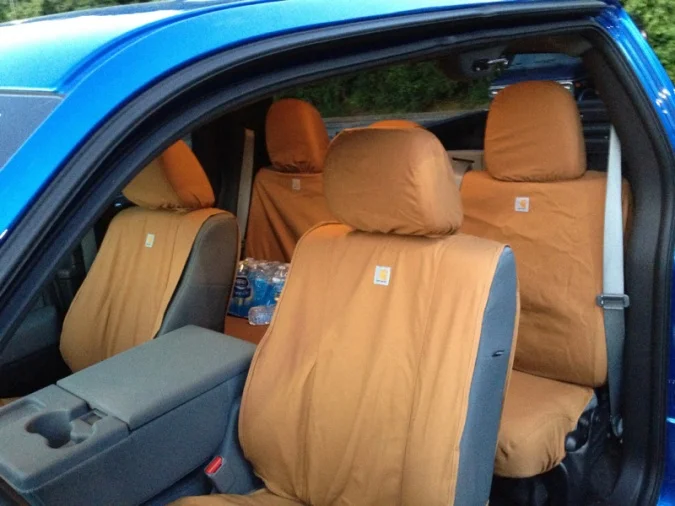 Covercraft Carhartt SeatSaver Custom Seat Covers
2015-2018 Ford F-150
---
ShearComfort Custom Waterproof Cordura Seat Covers – BEST DURABLE
ShearComfort Custom Waterproof Cordura Seat Covers
✅ Compatible with 2015 – 2019 Ford F-150 (SuperCab and SuperCrew only)
✅ Hardwearing premium 1000 Denier Cordura® fabric
✅Fully waterproof
✅ Fade-, tear-, and abrasion-resistant
✅ Breathable

If I had to choose the most durable and resilient F150 seat cover from the ones I've reviewed, I would pick ShearComfort. These waterproof seat covers crafted out of hardwearing 100% genuine 1000 Denier Cordura® fabric offer comprehensive protection to my pickup's seats. After testing out these ShearComfort custom seat covers, I've observed that they're waterproof, spill-proof, and scratchproof. 
Cordura™ material used to make these covers is ideal for protecting my pickup seats when traveling with my dog. The tough Denier fabric defends the vehicle's seats from the dog's sharp claws and prevents dander or pet hairs from sticking to the seats. Also, the covers are easy to clean and vacuum, which helps in doing away with pet odors.
These Cordura waterproof seat covers are highly resistant to wear and tear and abrasion on the sides and front. The backside has been shaped out of durable stretch material, so I've found the covers easier to install. The installation also becomes simple as I can slip on the surfaces without detaching the seats.
Nevertheless, one minor disappointment is that the cover needs to be held in place with flimsy elastic strips.
Pros
Comes with separate headrest covers
Features openings for under-seat storage
Features openings for cup holders and storage consoles
Allows accessibility to side airbags
Cons
Covers for headrests may not fit perfectly
No pre-cut headrest holes and the material used is thicker; hence it's difficult to cut a hole on your own
Average fitting finishing
Usage of more made in China materials has led to lower quality products
Many customers have complained about poor customer service by the company
I'd highly recommend this waterproof car seat cover by ShearComfort because of its robust and resilient premium Denier material. This is one of the best F150 seat covers guaranteed to withstand rough usage yet stay in service for long.
---
What Do People Say About This Seat Covers Set?
"Ordered these a few weeks ago and they just came in today.. They fit perfect! I highly recommend!"

– A happy customer shared on f150forum.com after installing the seat covers.
"Almost had em for a year. so far they are great. Have got tons of compliments on them.. The fit is perfect."

– KingRanchCoy user talked about ShearComfort seat covers on f150forum.com.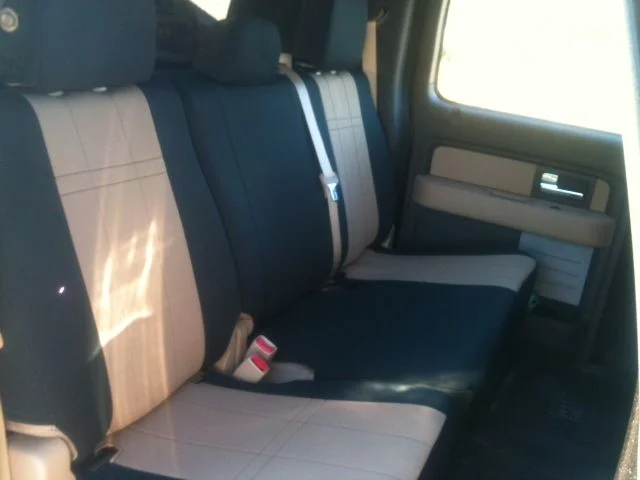 ---
Aierxuan Car Seat Covers Full Set – BEST VERSATILE
Aierxuan Car Seat Covers Full Set
✅ Compatible with 2009 – 2022 Ford F150
✅ Easy installation
✅Allows access to side airbags
I've included the Aierxuan Car Seat Cover in this 'Best F150 Seat Covers' review because of the product's supreme versatility. This waterproof faux leather car seat by Aierxuan is compatible with installation on F150 models from 2009 through to 2021. No other seat cover for F150 reviewed here is consistent with many Ford F150 models.
The Aierxuan Car Seat Cover package includes two pieces for front seats and front headrests, backseat covers, installation hardware, and a setup manual. This seat cover made from high-quality faux leather is water-resistant, tolerates wear, and resists wrinkles keeping fatigued at bay while I'm driving. The smooth texture and velvety surface also help remove pet dander and hairs with a wet mop or towel.
The non-slip silicone interior helps keep this faux leather seat cover firmly in place, thus enabling me to slip on and off. This Aierxuan car seat cover's compatibility allows me to access my vehicle's seat belts and airbags. On the other hand, the seat cover does not interfere with the heating function of my pickup seat.
The faux leather material appears elegant and graceful and ensures a relaxed setting. The USP of this car seat cover from Aierxuan is its five-layer construction, making the product incredibly heavy-duty.
However, I was wary while trying to fit this cover as I read customers' feedback complaining of the cover ripping during installation.
Pros
Premium faux leather material
Waterproof
Can be cleaned easily using a moist towel
Stands up effectively to wear-and-tear, and the elements
Cons
The fabric could rupture during installation
Difficult to deploy side airbags because of the side straps
Average construction quality
This is a comfortable and elegant seat cover that upgrades my F150's interior. If you can handle it carefully, it is worth investing in.
---
What Do People Say About This Seat Covers Set?
LUCKYMAN CLUB Custom Seat Covers – BEST COMFORTABLE
LUCKYMAN CLUB Custom Seat Covers
✅ Compatible with 2009-2020 Ford F150 Crew Cab (Check the 2009 – 2014 version below)
✅ Made from a combination of polypropylene, cotton, and faux leather
✅ Precise side openings for airbags
I chose the custom seat covers designed by LUCKYMAN Club because these were constructed from soft and durable PU leather. I found the faux leather material to be remarkably smooth and supple yet capable of withstanding rough usage. This LUCKYMAN Club seat covers feature dense padding of polypropylene cotton and sponge enhancing sitting comfort.
On the other hand, the waterproof quality of the seat covers allows me to quickly and smoothly wipe down liquid spills. The seat covers can be fitted to enable me to keep the sides uncovered for accessing airbags. At the same time, the masks allow for keeping the rear seats' seatbelt receivers thoroughly exposed.
Talking about compatibility, these LUCKYMAN Club seat covers fit only the Crew Cab F150 from the model year 2015 to 2020. So I know right away if these custom seat covers will fit on my F150 model or not. 
Many customers said that doing the covers on the front seats was simple; the process takes under 10 minutes. However, I struggled to install them on the rear seats, but I finally installed them after some adjustments. I had to carry out trial-and-error attempts before I got it right repeatedly.
Pros
Cushioning with PP cotton and sponge for extra comfort
Waterproof surface for quickly wiping liquid spills
Durable yet soft faux leather seat cover
Cons
Many F150 owners struggled to fit the covers on the rear seat
Fabric quality is average
Straps could have been stronger
Limited instructions provided
I warmed up to these LUCKYMAN CLUB seat covers because of their comfortableness, durability, stylishness, and easy maintainability.
---
What Do People Say About This Seat Covers Set?
LUCKYMAN CLUB Custom Seat Covers
2009-2014 F150 Crew Cab
---
Katzkin Black Leather Seat Covers – BEST PREMIUM
Katzkin Black Leather Seat Covers
✅ Compatible with 2015 -2018 Ford F-150 SuperCrew XLT
✅ The package includes seat covers for the front, front middle-jump, rear seats, and headrest
✅ Made from leather and vinyl
✅ 3-year/36,000-mile warranty
The Katzkin Black Leather Seat Covers Set is a premium choice compared to the F150 seat cover brands reviewed above. It is the most expensive option here, and the construction truly speaks about its worth. These seat covers with perforated inserts and gray embroidery have been crafted from leather and vinyl, making them incredibly resilient. The seat covers by Katzkin have been engineered with perfection to be thoroughly companionable with the 2015-2018 SuperCrew XLT F150.
Katzkin Black Leather Seat Covers enable me to personalize the interior décor of my pickup truck uniquely. The USP of these leather seat covers is that the package includes covers for front and rear seats, a front middle-jump seat, and a headrest. What I like most about Katzkin black leather seats is that these fully mimic the structure of the OEM parts.
The only thing that I found disappointing about these custom-made leather seats is that they take inordinately long to install. I went through the customers' reviews on Amazon and discovered that many of them also had a hard time fitting them.
Pros
Handcrafted and custom-built
Tailored finish and fit
Guaranteed to last
Cons
Fitting them can be tricky and time-consuming
Physically demanding; hands and fingers will hurt a lot
I'll settle for Katzkin seat covers over other brands if I'm looking to put the accent on the interior of my F150. These seat covers are somewhat complicated to install, necessitating professional assistance but are undoubtedly designed to last long.
---
What Do People Say About This Seat Covers Set?
"Just had my new Katzkin leather seats installed and was blown away at how great they look. I have a lead foot gray F150 and opted for their red leather with black accents and they look amazing!"

– User AndrewDoesLife started a thread about Katzkin seat covers on F150forum.com.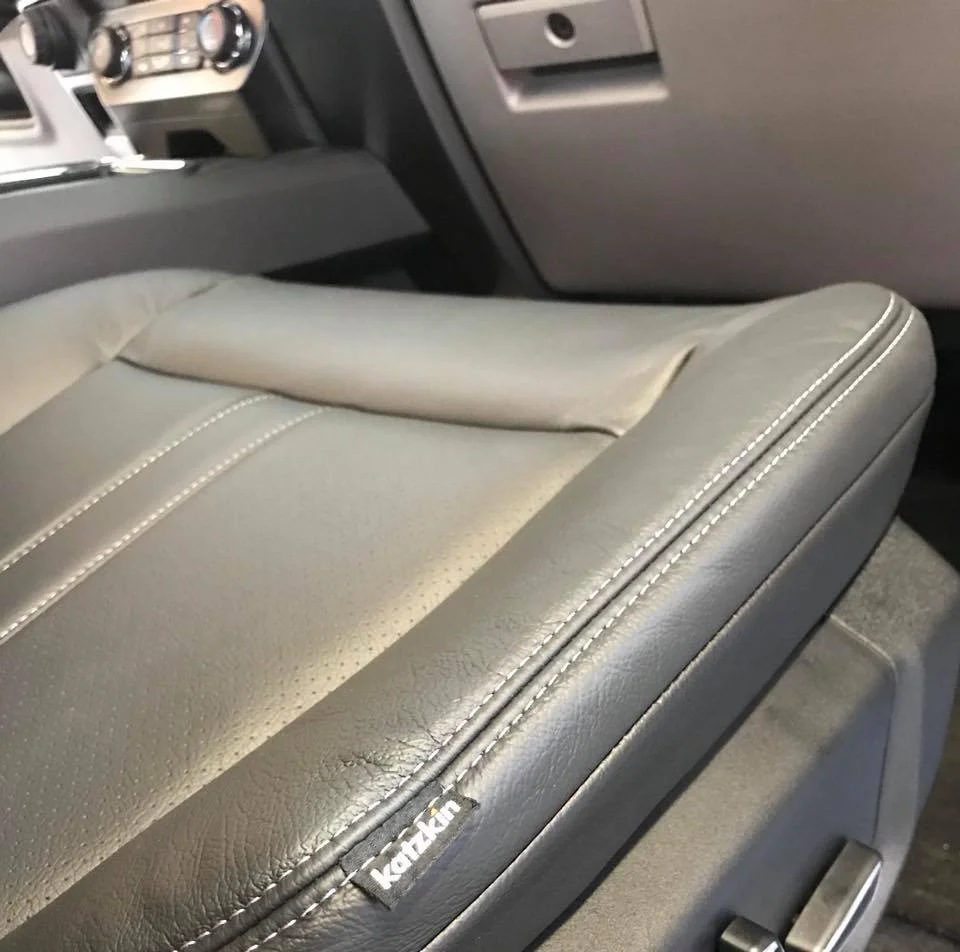 ---
What Others Are Reading?
6 Best Spark Plugs for F150 Ecoboost 2022 [Review & Buying Guide]
6 Best F150 Leveling Kits 2022 [Review & Buying Guide]
---
Best F150 Seat Covers – Read This Buying Guide Before Purchasing
When shopping for the best F150 seat cover, I'll always pick a product that seamlessly fits my vehicle's seats. Once I'm confident about the product's compatibility, I'll check out the other factors that make the product a good buy. If I know what to look for in a high-quality car seat cover, I'll be able to choose the best for my F150.
The best seat covers for F150 come at a price, so I did the homework beforehand to save time and money, as below.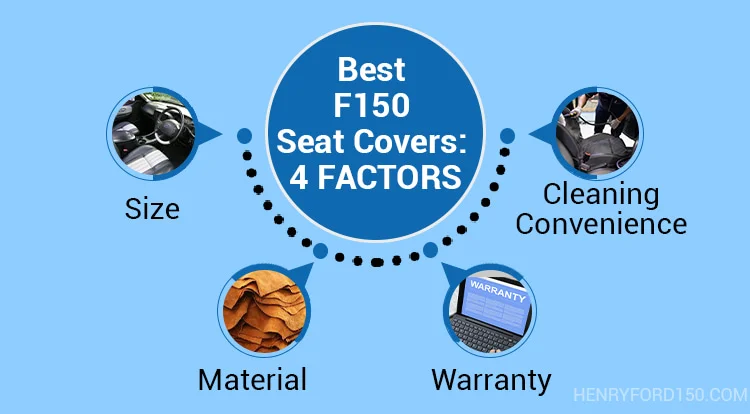 The Right Size First and Foremost
Should I go for a seat cover that is good for fitting on different vehicle makes and models? Or should I opt for a custom-fit cover designed particularly for a few vehicle models? Of course, there are pros and cons to choosing a universal-fit seat cover or a bespoke one.
For instance, custom-built products come with the entire set covering the front-, middle-, and rear seats of my Ford F150. But on the flip side, custom-made seats can take very long to install. Universal fit seat covers are easier to install but lack full coverage.   
Covercraft Carhartt SeatSaver Custom Seat Covers
BEST CUSTOM-BUILT F150 SEAT COVERS
Material 
The best seat covers for F150 truck models are usually crafted from neoprene, faux leather, pure leather, tweed, and polypropylene. These materials help boost durability and resist everyday wear and tear. 
Pure leather and faux leather are the two most widely used materials. The former is used because it appears more premium and lasts for a longer period, while the latter is affordable and resembles much more like a premium finish leather material. 
Katzkin Black Leather Seat Covers
BEST REAL PURE LEATHER
After-sales Warranty 
Contrary to what many vehicle owners think, I believe that choosing a product that comes with extended warranty matters. I'd always prefer to buy a seat cover backed by a manufacturer's warranty just in case.
Rough Country F&R Neoprene Seat Covers
1-YEAR VEHICLE-FITMENT WARRANTY
Cleaning Convenience
Whatever seat cover brand I buy will get grimy sooner or later. So, I'll better select one that I can clean easily without adversely affecting its quality. Faux leather is probably the most easy-to-clean material, while leather requires more caution while cleaning.
ShearComfort Custom Seat Covers
EASY TO CLEAN AND VACUUM
Final Thoughts and Recommendations
I've carefully selected the top 6 best F150 seat covers and reviewed them with due diligence. If I choose the best custom-built F150 seat cover, I'll go for Covercraft Carhartt because of its durability and cleaning convenience. In my opinion, the best universal fit seat cover is the Aierxuan seat cover for its versatility.