Choosing between these two Ford truck beds, Styleside vs. Flareside, can be a daunting experience due to their robust designs and unbeatable functionalities.
The prominent distinct features they offer are: Flareside comes with raised rear fenders that have an outward extension on the vehicle, making a narrow bed structure. In contrast, the Styleside trucks have a sleeker appearance, flat exterior with wheels well-positioned inside, and a wider cargo space. 
Let's compare the two truck bed styles side-by-side so you can tell their detailed differences, as well as the pros and cons. You'll know what truck bed you should go for at the end of this article, the complete guide on Styleside and Flareside.
Styleside vs. Flareside: What Are The Key Differences?
Let's look at the detailed comparison with recommendations and suggestions for your comfort and assistance. 
Comparison chart
| | | |
| --- | --- | --- |
| | Styleside | Flareside |
| Terminology | Style side is the term used by Ford for their standard truck beds | Ford uses the term Flareside for their stepside trucks |
| Price | Lower price | Cost more |
| Fenders Position | Their fenders are present inside the bed | The fenders are situated on the bed exterior |
| Bed Width | Has a better wider bed width area | Has a relatively smaller bed width and narrow style |
| Exterior Structure | These come with a flat exterior with wheels secured inside | The raised exterior is extended outwards with fenders from the trucks |
| Bed Style | Flat-sided bed flushed to the sides | Box-shaped narrows the truck bed style |
| Truck Availability | Some up to 09-year model Ford trucks and most modern trucks | Mostly 04 to 08-year model Ford trucks |
| Best Features | Wide interior space | Exterior look and perfect body |
Detailed Comparison 
Price
The price is a vital factor in the difference between the two truck bed styles. The overall design of Flareside is relatively fabulous and therefore costs more than the standard Styleside design. 
The price range of both the popular trucks lies under the affordable range of the Ford truck series. People choose Styleside over Flareside for the wider bed and lesser price. User DHFerguson stated in a 1999 thread on the F150online.com forum:
"When I bought my '97 Lariat, the Flairside box (only available in 6.5′ length) was ~$1,000 more than the short Styleside box I finally ordered."
However, those who prefer fascinating styles go for Flareside pick-ups despite their slightly raised price than their counterparts. 
Fenders Position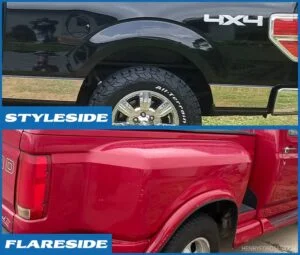 The fenders on the Styleside are inside the bed itself, which creates an arch shape on both sides of the truck bed. The inside fenders narrow down the body and prevent loading long items, but the overall area of the bed is relatively wider. 
In contrast, the Flareside fenders are outside the truck bed with ribbed steps at the side of the bed. The steps are between the cab and rear axle. 
Exterior Design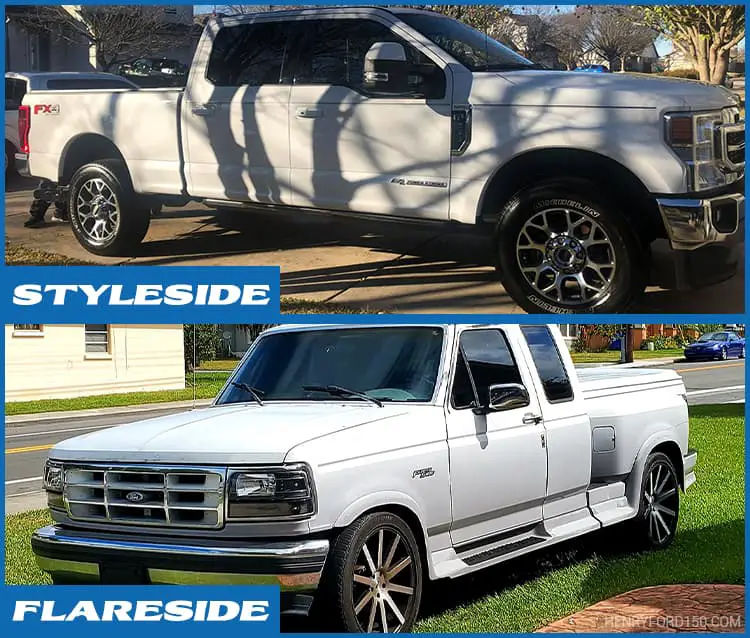 The Flareside models have a camel hump-like wheel fender on the outside. This gives the truck a unique, robust structure outside, but this affects the space inside the truck bed.
In comparison, the Styleside trucks are attractive due to their sleek, smooth look. On the downside, its cargo space is a bit packed. 
Truck Bed Space 
The bed Flareside has straight walls that let you keep long items across the entire width of the bed. The inside fenders of the F150 Styleside create an arched area on the inside of the truck. This results in a narrow space to stack long items, but the width of the bed is wider.
With Flareside, you can carry long objects easily due to its perfect rectangular space, but with Styleside, you have a wider area to load items. 
The modern trucks incorporate these arches in their designs to provide a multilevel loading area. These designs have molded channels that extend a piece of either plywood or sheet metal. This creates a flat deck across the entire width. 
The 12th generation F150 and Super Duty do not have this Flareside bed, but the Styleside comes with a unique clamping system.  
---
Ford Flareside vs. Styleside: The Pros and Cons 
Looking to buy a suitable truck but can't decide which style to go for?
Still confused after reading through our comparison?
Let's find out more about each truck bed style in this section.
Most modern trucks are designed on a Styleside structure, but if you go for a classic truck, you will have a lot of choices. Below are the pros and cons of both two truck bed styles.
Flareside Beds
Ford uses the term Flareside to highlight their version of step-side trucks. The recent F-150 and Super Duty models do not follow this structure. Earlier pick-up trucks used to have Flareside, which received multiple updates to satisfy the customers' demand. Their fenders are located on the truck's exterior, with ribbed steps between the cab and the rear axle distinguishing them from other models.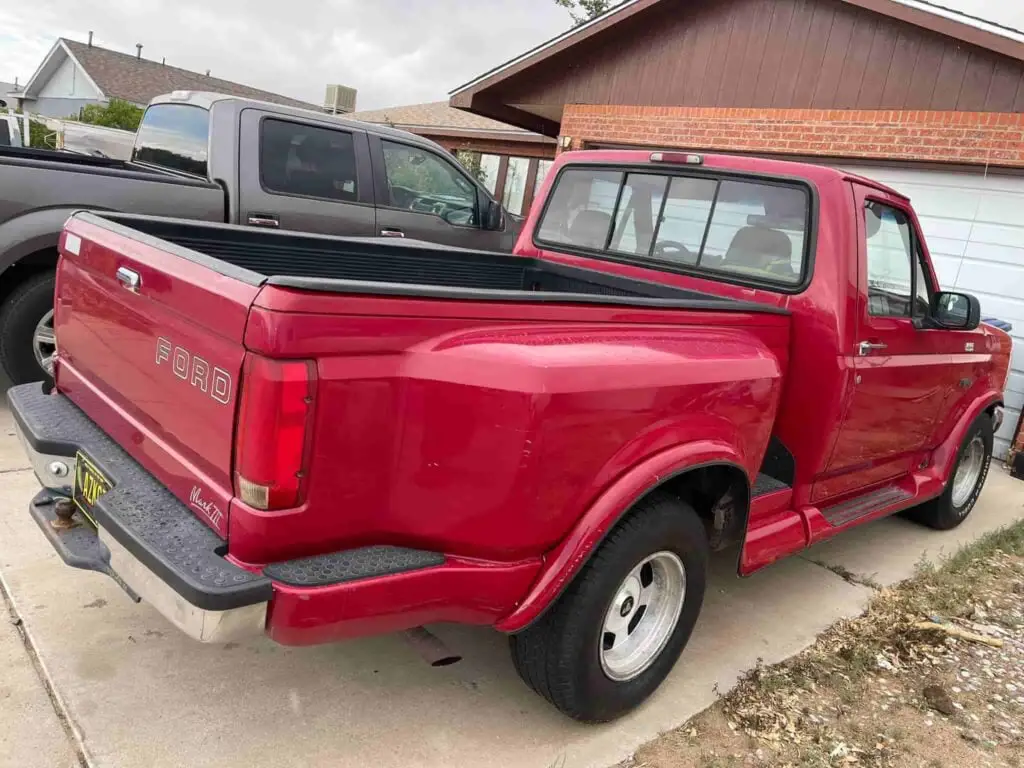 Their classical and robust style, with a narrow and perfect rectangular bed, provides a sophisticated exterior. It has iconic style and built-in steps. However, its rigidity unquestionably outweighs the benefits of the greater space. 
The bed on the outside gives off a luxurious aspect that works well with sports but isn't suited for many types of needs. It takes up space and makes the inner space where the loads are supposed to be carried smaller. It's merely a conventional bed with convenience if the bed doesn't have any flexibility.
Pros
Its stunning fender flares are sure to attract everyone's attention
Ideal for long items
It gives interior protection to prevent the objects from getting damaged
Cons
The overall width of the bed is less than Styleside
---
What Do People Say About Flareside Pickups?
"I like flaresides for two reasons.. One is because the bedsides will not rust over the wheels. Or anywhere on the bedside for that matter. and yes it's shot two inches in width however there are no wheel wells on the inside. If you take a peek inside one you'll see its almost flush with the walls of the bed side."

– Senior member novsun88 expressed his love for Flaresides on F150online.com.
"I love the looks of the flareside, but, I can't give up the cargo space. I stuff 2 dirtbikes and a weeks worth of camping supplies, food, beer, tools, gas, gear and clothing, in my styleside. There is no chance I could get all that in a flareside. I used to own a trailer, but it was eating up storage space in the garage. I don't think the flareside looks quite right when you put a cap on it, though."

– Tina, senior user of ford-trucks.com forum, talked about Flareside.
---
Styleside Beds
Ford's Styleside trucks are sleeker in design and refer to the flat-sided lockup trucks. The design is popularly incorporated in Ford's F-series trucks, F-150, F-250, and F-350 models. Their inside fenders get them their name, Styleside. 
As introduced above, this truck bed offers considerable cargo space as it has an arched area on both sides of the pickup truck. The arched design creates a wider bed width to load items. This modern pick-up is all about flexibility and added comfort.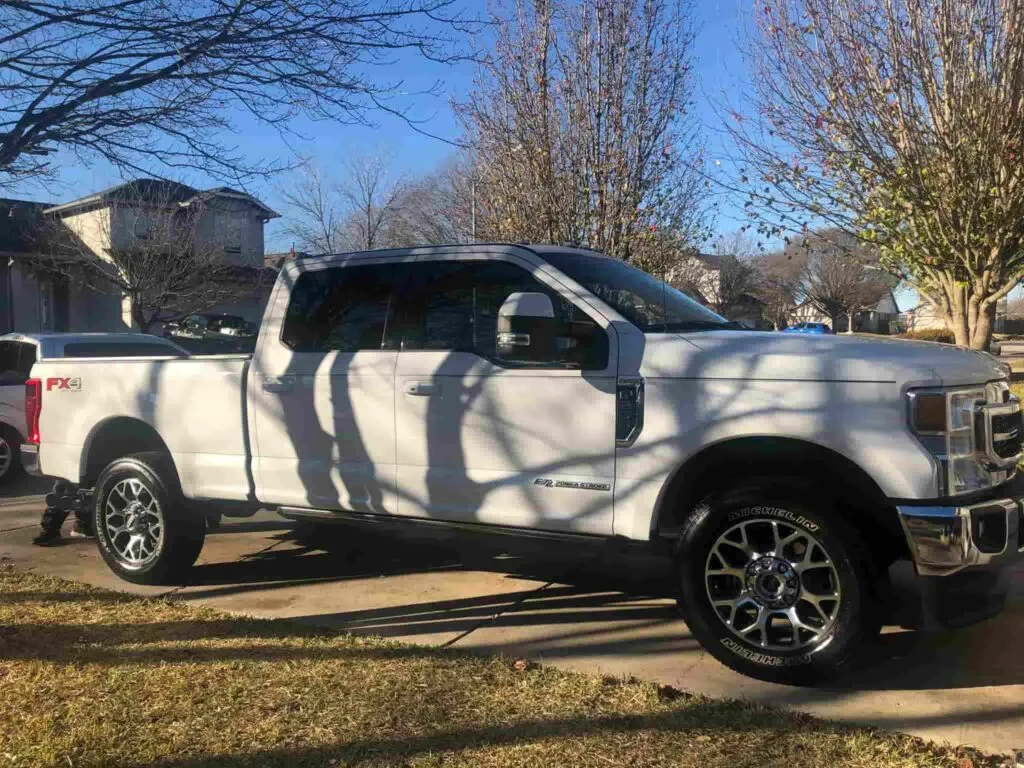 Although the Styleside does not have a distinct design or built-in step, you can easily add the trailer step to access the bed. They have better storage space, and people looking for more performance-geared builds go for Styleside trucks. 
The fenders create a half-circular region on each side of the bed to offer extra space. This leads to a narrower room while maintaining the convenience of a larger total bed area. The arched section in the Styleside bed is purposefully designed to contain more loads.
Even though it excels for having the most inside room, the pop-up wheels in the interior may cause some issues. Not all lengthy objects will fit horizontally in the bed after being altered and equipped with the flexibility to deal with the tires.
Pros
Have overall extra space
Can carry more load than Flareside
Cons
Simpler outer look
Not suitable for sports or outgoing personality
---
What Do People Say About Styleside Pickups?
I went with the styleside for the larger capacity. I personally, really do not like the small tail lights on the flaireside. Either one though is just fine to me."

– Dustoff from F150online.com opinion on the Styleside vs. Flareside debate.
"Well personally I like the stylesides better, especially on the 4×4's. It just looks more manly to me I guess. But I do like the flaresides, my girlfriend has one and it looks great. I guess it's just what looks good in your eyes. Good luck with your choice."

– Mudder, a member of F150online.com, also chose Styleside over Flareside.
---
Styleside vs. Flareside Ford Truck Chart
Years
Styleside
Flareside
First Generation

(1948 - 1952)

NO
YES

Second Generation

(1953 - 1956)

NO
YES

Third Generation

(1975 - 1960)

YES

NO
Fourth Generation

(1961 - 1966)

YES

YES

Fifth Generation

(1967 - 1972)

YES

NO
Sixth Generation

(1973 - 1979)
YES

YES

Seventh Generation

(1980 - 1986)
YES

YES

Eighth Generation

(1987 - 1991)
YES

NO
Ninth Generation

(1992 - 1997)
YES

YES

Tenth Generation

(1997 - 2003)
YES

YES

Eleventh Generation

(2004 - 2008)
YES


YES

Twelfth Generation

(2009 - 2014)
YES

YES

Thirteenth Generation

(2015 - 2020)
YES

NO
Fourteenth Generation

(2021–present)
YES

NO
---
Styleside and Flareside: Some Competitor Models
The Chevy pick-ups are called Stepside and Fleetside trucks, while Ford calls its pick-ups Flareside and Styleside. There're some other competitor models from other car brands. Let's check them out.
Flareside: Stepside, Fender side, Utiline, Thrift side & Sport side
The Stepsides were first launched by Chevy a long time ago. Ford calls them 'Flareside,' GMC 'Fender side,' Dodge 'Utiline' and Jeep 'Thrift side or Sport side.' These terms all refer to the trucks whose wheel well is located outside the bed, creating a perfectly rectangular box to hold the cargo inside. 
Styleside: Fleetside, Townside, Swept line & Wide side
Similar to Styleside in design, the main difference is their manufacturer. While the term Styleside is used by Ford, Chevy calls their same designed trucks 'Fleetside'. Other competitors are 'Townside' for Jeep, 'Swept line' for Dodge, and 'Wide side' for GMC. Their bedsides are flat, and the tires are accommodated inside the bed. This design increases the stuff that can be carried and even simplifies the manufacturing process.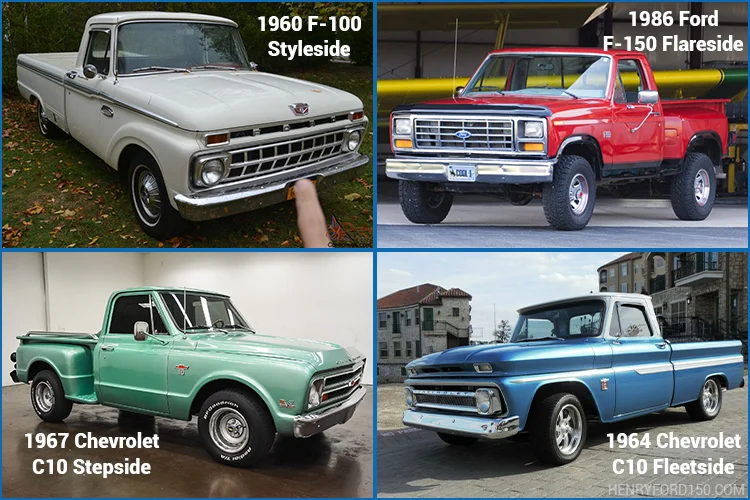 ---
Final Verdict: Ford Styleside vs. Flareside – Which Should You Go For?
Both the pick-ups are strong rivals with invincible expertise to offer. While Flareside enjoys extra points for its looks and style, Styleside is best for its interior wider space.
Therefore if you wish to stand out in the crowd and have long items to carry on your journeys, then Flareside is the best option to go for. But if you have more loads to carry around and don't care much about outgoing style, you should go for Styleside. 
All in all, Styleside and Flareside truck beds offer contrasting features and styles. Therefore, the one you pick for your daily commute should be closely related to your pick-up needs. Do consider the space requirement of your cargo and the style they offer because it is an investment that should be enough to compliment your unique style and character beautifully. 
---
Frequently Asked Questions
Q1: When did Ford stop making F-150 Flareside, and why? 
Answer:
Ford continued to make their Flareside trucks until 2009, but the manufacturers started to discontinue them due to the evolution of the truck styles. The bulky-looking truck beds are no longer needed to enjoy better functionality. Now Ford incorporates the step on the rear bumper to access the truck bed. 
Q2: Do Flareside and Styleside both have the same bed sizes? 
Answer:
No, the bed sizes differ in size as the Flareside has a narrow style and lesser bed width. The Styleside has a better wider bed width to carry more load. Both top-notch pick-up trucks have quality bed space that can significantly assist daily tasks. 
Q3: Do they have the same measurements for fitting bed caps? 
Answer:
No. All the caps are specifically designed to fit the specific size and shape of the Ford truck bed. Besides, there are no particular configurations between the makes and models. 
But if you are looking for a tailgate protector that fits your Flareside's bulkhead cap and can't find the Flareside cap option,  you'll have to order the Styleside cap and cut it accordingly. The perfect fit you will get is enough to beat the factory job. Plus, use stainless steel only.